Usually, when a someone orders an urn that will hold two sets of ashes (known in the industry as a double or companion urn) usually the widowed spouse will make the arrangements, or older children ordering for the parents.
But sometimes the circumstances are a bit more unusual, like the mother who ordered an over-sized ceramic urn with a beautiful hummingbird for her and her cherished adult daughter.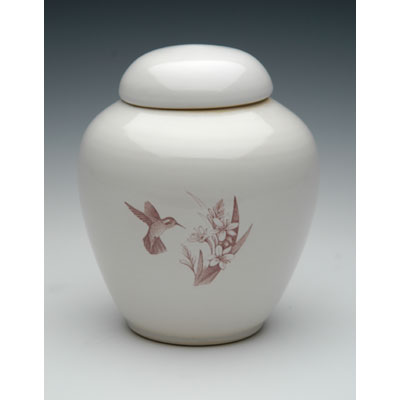 This is probably a rare occasion, that we would have parent and child as most of the time the style is generally preferred by couples, but this is a beautiful idea and certainly was not uncommon back in the day when infant mortality rates were high and more women died during childbirth.
We've also sold urns to "pet parents" who are planning their funeral arrangements in advance and want an urn that will hold not only their ashes, but the remains of beloved pets.
And then finally, we had a lady who wanted a double size urn for herself so that she would have room to include items for her journey to the afterlife. She chose hand thrown pottery and in the spirit of the ancients she would wanted a small sack of corn meal, some of her favorite jewelry, and other assorted items that were important to her. She laughed and said her family thought she was crazy, but she didn't care and expected them to honor her final wishes.
Often when an individual calls our toll free number with a question, they will preface the inquiry with the statement, "this might sound weird, but….." . They are never weird questions or requests and in fact, have probably been asked before. Never hesitate to call if you need assistance.