When there are so many types of cremation urn to buy, families tell us all the time that it's overwhelming when they have to shop for a cremation urn. Nerves are shattered, they are emotional, and let's get real….no one wants to shop for an urn. After shopping around and seeing all the styles that are available to buy, they know it when they see it. Added complications are when you are dealing with a committee and you have to run the choice by other family members and get everyone to agree.
Sometimes though, the family has a vision, and that makes it easier. Here's a few examples of recent interactions and the type of urns that they bought.
Santa Rosa Beach Urn
Mom and Dad were living my dream of being a snow bird. For 20 years they spent winters from November to April at the same resort in Santa Rosa Beach, Florida. Mom's health was poor and they were not able to go this year. Instead, they planned for an Easter brunch with family.
Mother fixed lunch and then completed addressing 20 Easter cards with a personal message for friends and family, And then? She died. Everyone knew she was ill, but it was so sudden, her husband and children were shocked.
Her son called after searching for "cremation vase beach", he found the Santa Rosa Beach urn that was perfect for his mother. The problem was, he had a tight spot in a niche at the columbarium that he thought this urn might be too tall for. It was.
The good news is that we had the same style in a box (Salt Life) that he could order, get it personalized and delivered in time for his mother's memorial service.
Raku Dragonfly Ceramic Urn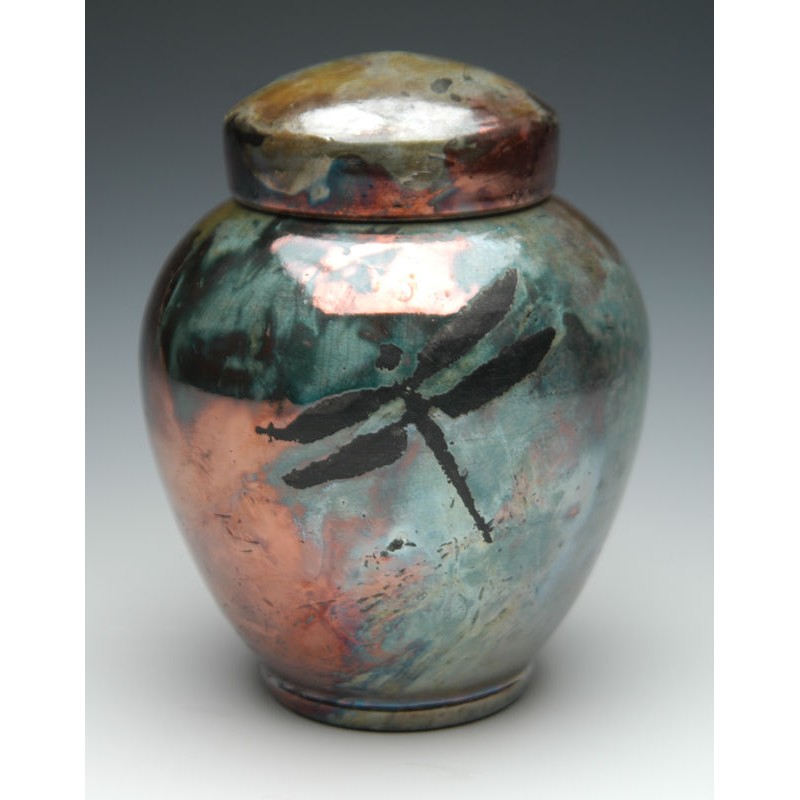 A client in California called after her mom passed away looking for a funeral urn that would be creative and unique, like her artist mother. Another requirement was that the urn had to be American made.
She chose the Raku Dragonfly Urn, made in the USA and signed by the artist. She was willing to wait a few weeks to get the urn produced. The husband and wife team that make the urns have a busy small business creating handmade memorials that are worth waiting for.
Madonna and Child Urn for Ashes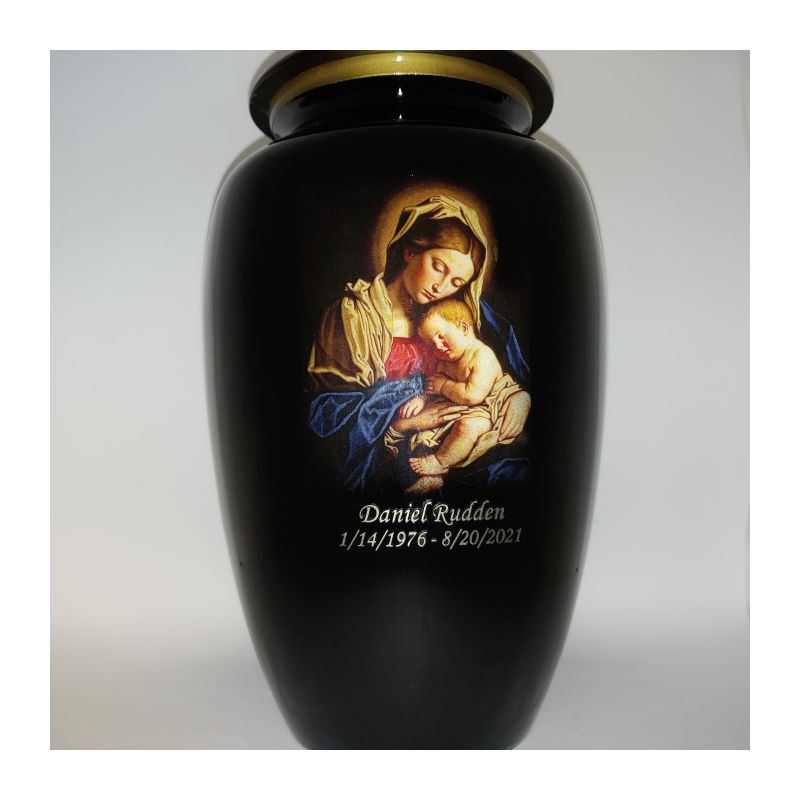 An Arizona customer is off to a bad start in 2023 after losing his mom after caring for her for the last several years in his home. He described his mom as a loving, church going lady.
His father has been diagnosed with dementia and had to be placed in memory care and that was not going well. Prior to being placed in a facility, his dad was hard to handle and even though being told by his doctor and family that he could no longer drive, he continued, causing a lot of stress and anxiety for his grown children. I could hear the fatigue in his voice.
Sky Blue Cultured Marble and Walnut Celtic Cross Box for Ashes
Two pilots that recently died, one on the job and the other was retired.
The widow picked the Sky Blue Cultured Marble urn because it reminded her of clouds, engraved with her husbands name in silver.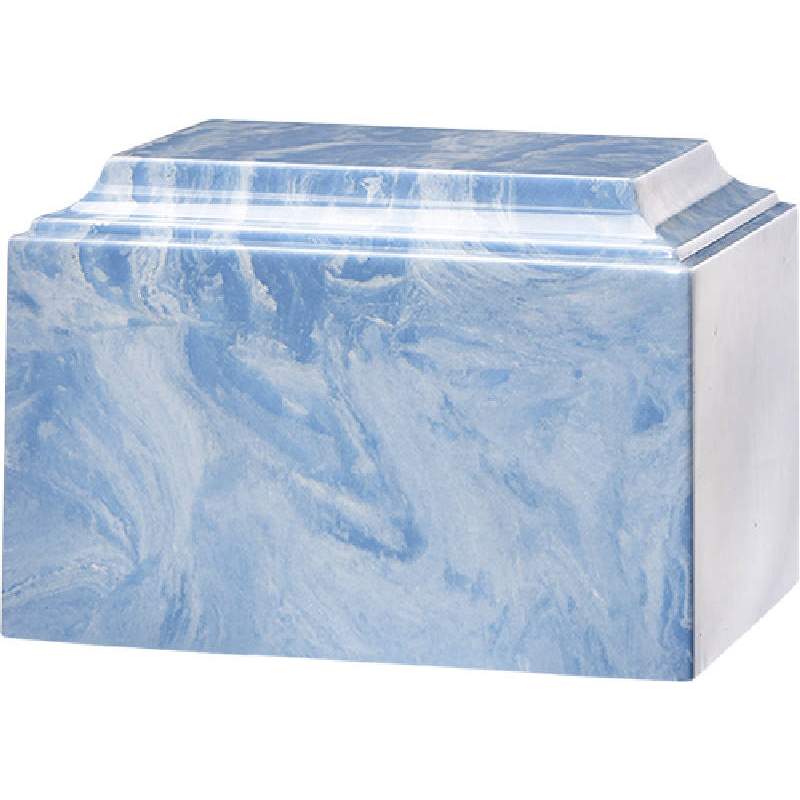 The son of the retired pilot chose a hand rubbed walnut box for ashes with the Celtic Cross on top, he also had it personalized. We rushed production on this one, but once we got it on the truck for transit, things went sideways with UPS and that is another story for another day.
Both of these urns were created by American artists.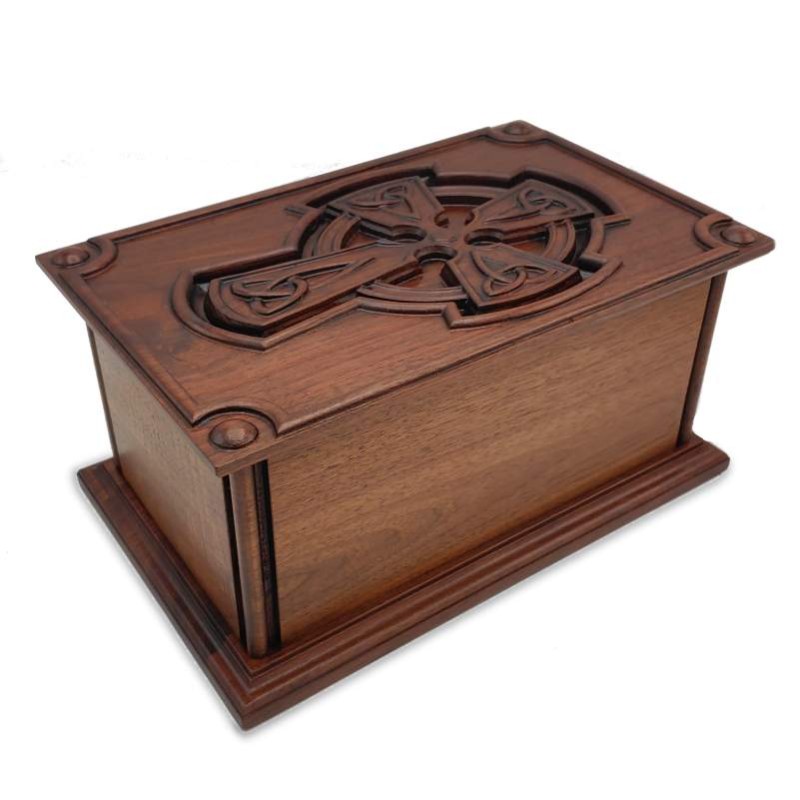 Biodegradable Memento Urn for Water
Miami Beach customer bought the Memento Urn a year ago. The biodegradables have a stable shelf life if stored properly. He is just now getting around to having the memorial service, but discovered he could not find the box that the urn came in that had the instructions for filling or the water soluble bag and glue.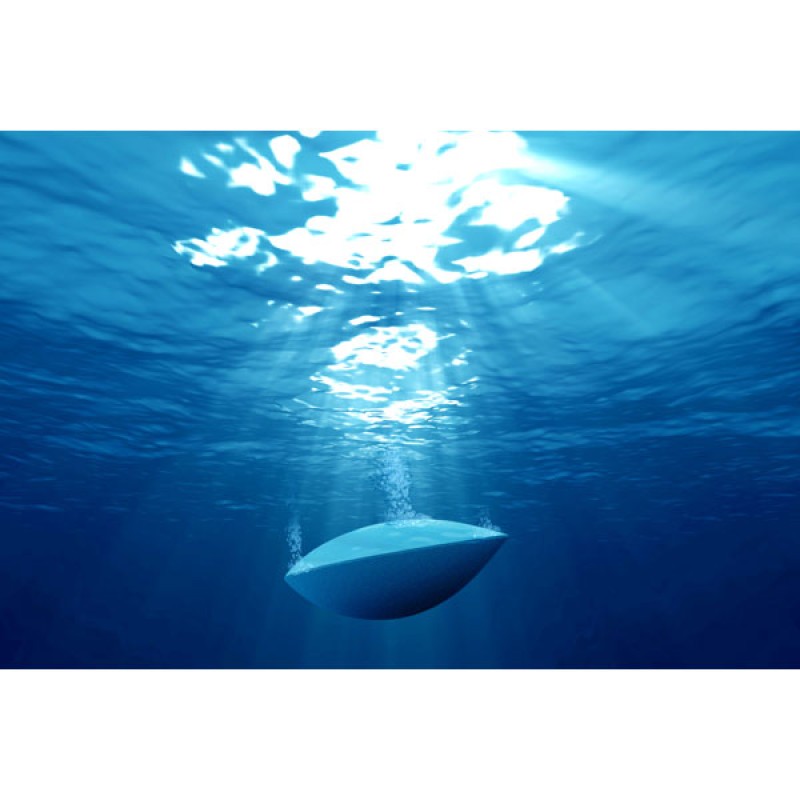 After his call for help, we were able to email instructions and help him source the other items needed to complete the process and get him ready to disperse the ashes.
The Memento is good for families that want a clean green funeral service and despite it's unusual football shape, it comes in several colors and is ideal for a water or earth burial.
Depending on your needs, your vision, your loved one's personality, there are many color, shapes and sizes of cremation urns. We can help you through it.