Bluebird Cremation Urn and Keepsake
With so many types of cremation urns on the internet and at the funeral home, it can be so overwhelming to pick one out. Here's a few selections that our customers made and the stories behind them.
The blue bird cremation adult urn and the little mini bluebird keepsake urn was the choice a customer in Michigan picked for her brother. She was letting him stay at her place, where he eventually died on her couch. She knew he was ill, but she also knew that he would not allow her to nurse him and had no idea how sick he really was.
He was asleep on the couch when she went to bed and still there when she got home from work the next day. He never moved and she questioned whether he was dead when she went to bed the night before.
Urns for Two People
A California family decided it was time to buy a companion urn for the parents. Dad had died 25 years ago and Mother had passed in the last 2 years. They wanted a container that the ashes could be co-mingled and have room for the family pet.
The wanted a box shape, and many of the double sized urns have a divider to separate the ashes, so this narrowed our choices. In addition to a specific style, they planned to bury the urn in a cemetery on the opposite side of the country. This required coordinating the logistics as they preferred not to board the plane with an urn and 3 sets of ashes.
Often, this family vacations in Hawaii and has already told their adult children, that they want their ashes scattered there.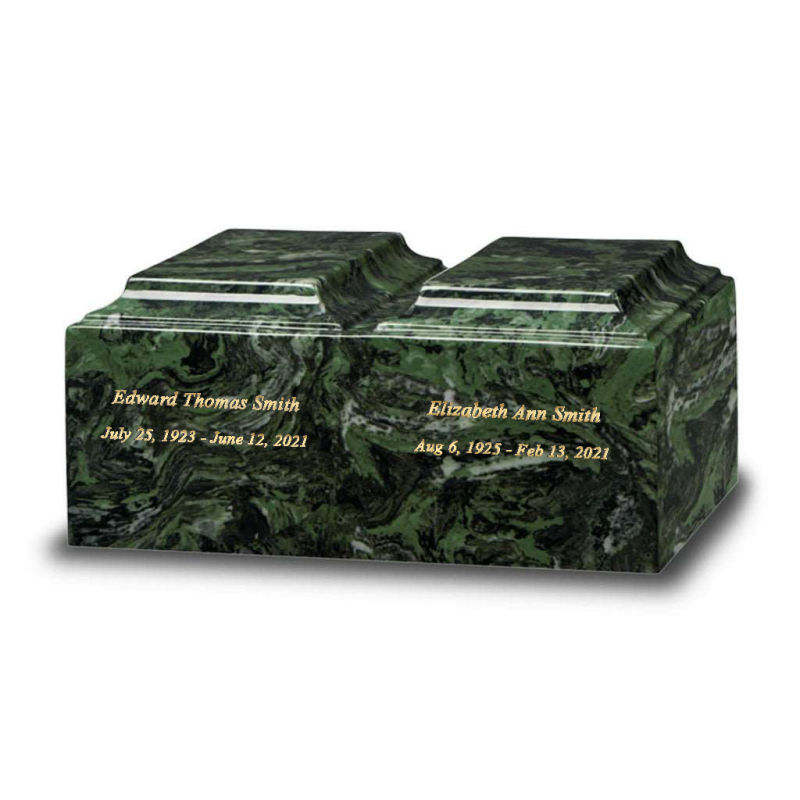 In New Jersey, another family was shopping for an urn for their parents who wanted to be together forever. They were married for 70 years and died 6 months apart. The whole family lived in the same neighborhood, on the same block. There was lots of help when it came time to clean out the parents' home, who had accumulated several generations of family heirlooms and artifacts.
They were an immigrant family who loved America and served in the military. While working on the estate, they found service medals and a flag from France, belonging to an uncle who had been killed at Normandy. The parents will be interred in a veteran's cemetery with full military honors.
Motorcycle Urn
In Texas, a lady was helping her uncle pick out his urn as he neared the end of his life. He loved cars and motorcycles, and the old Route 66 ran right through their town. We debated on the proper pronunciation of "route" or "root". Our Route 66 motorcycle urn was a perfect choice for him.
Beach Themed Urns for Ashes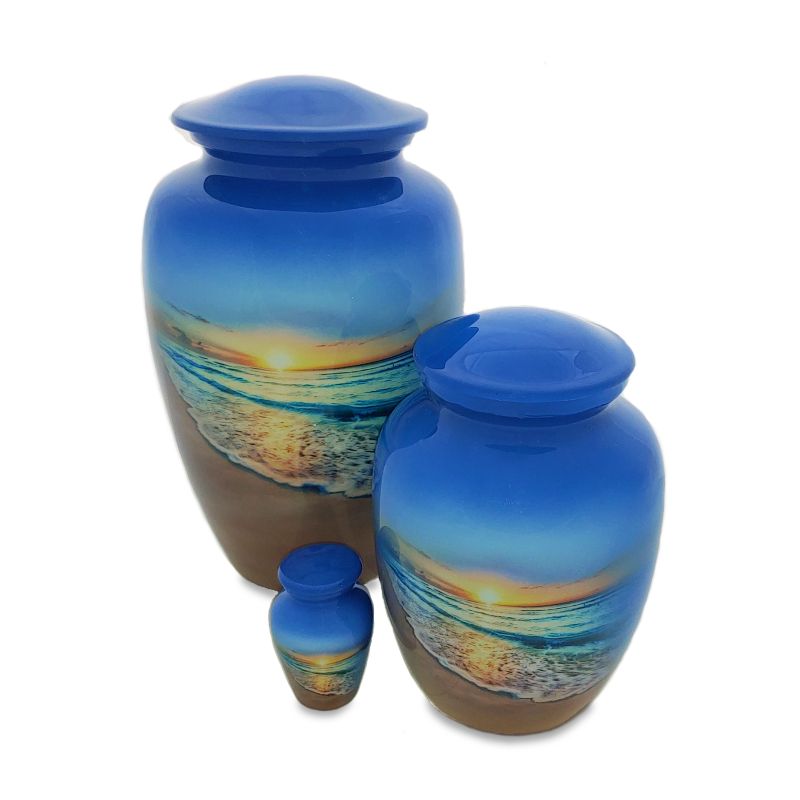 In Florida, a young lady wanted the Medium Siesta Key urn for her mom, who died on Christmas day in 2021 from complications shortly after receiving a booster (according to her daughter). It was especially painful for the daughters as they could not be with their mom, as both the girls had covid.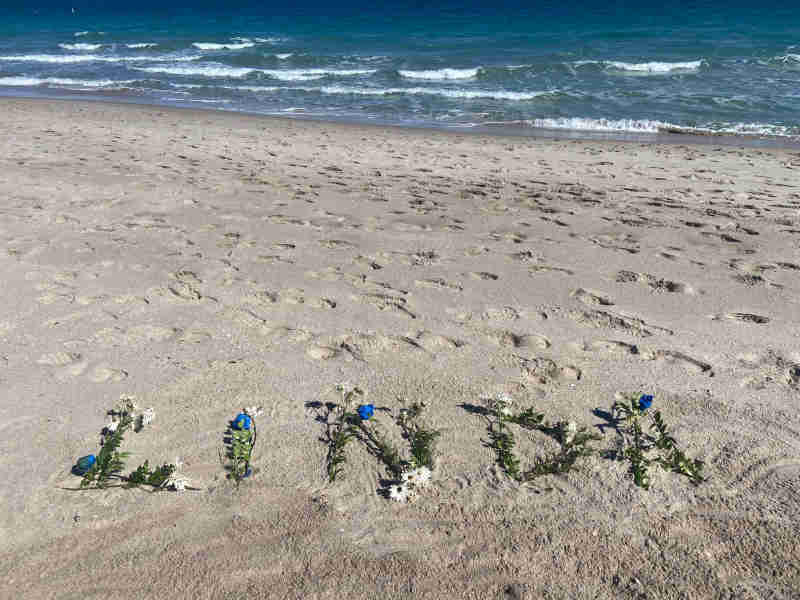 An informal memorial service was held by the pool later in January with food and drinks, followed by an ash scattering ceremony at the beach. Guests had strict instructions to wear bright colors, absolutely NO BLACK.
American Made Butterfly Adult Urn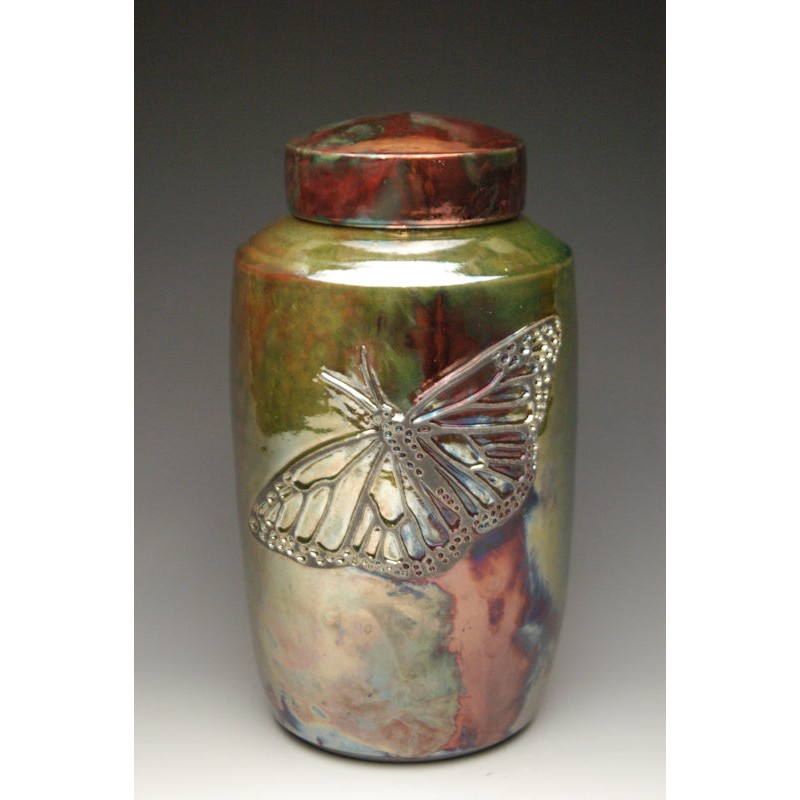 Meanwhile, in North Carolina a customer was very clear that she wanted an American artist created urn for her ashes. She ordered the Raku Butterfly Pottery Urn and sent this note:
"This urn is for me when I pass and I am presently still very much alive! Also, my body will go to a Medical School for teaching with return of my cremains once they are finished. They may keep the cadaver 2 weeks to 2 years at which time they shall cremate the body and return it to my family. I just wished to select my own urn since it shall be the receptacle of my cremains. I have done pottery in my life and love this piece and the placement of the butterfly, symbol of eternal life."
We were honored to be able to assist with a work of art created by an American master artist.
If you are still trying to decide, here's another post we did on various types and styles of urns that our customers have purchased recently. It's a difficult decision and if you have questions or need a little help, reach out.