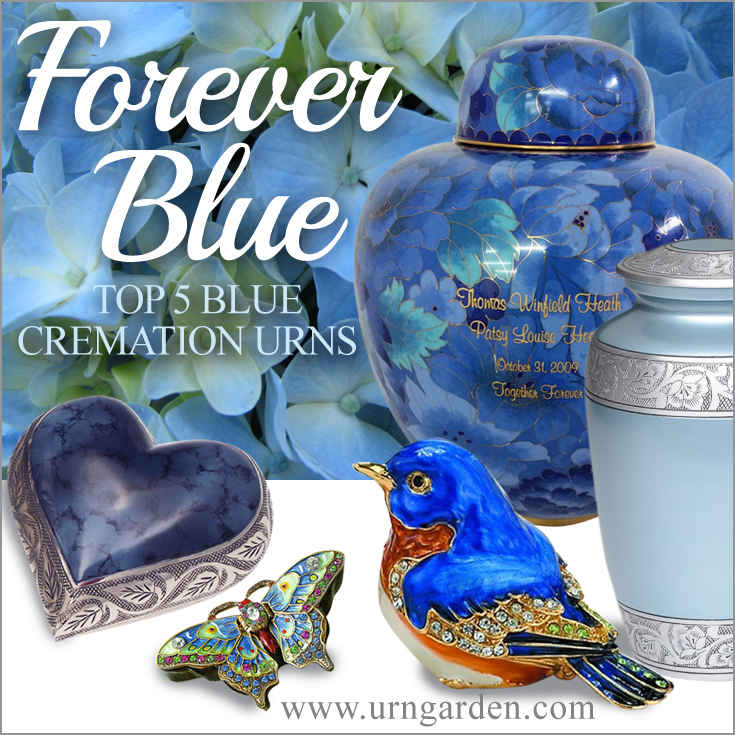 In the previous post I mentioned the American Gem Society states there are two birthstones for March: the widely-accepted aquamarine, and the less-well-known bloodstone. So, our task for today is to explore just a few of the many blue cremation urns in our collection.
Full-Size Urns for Humans
These urns range in color from intense blue to a delicate sky blue – and anywhere in between. Some are full-sized urns, some are keepsake urns, and others are stunning pieces of cremation jewelry. Here are the ones which especially draw my eye – and maybe yours, too.
I've got to say, it was hard for me to choose my #1 favorite in this category – there are so many gorgeous blue urns to choose from! Still, I narrowed it down to two.
The first is the cloisonné Azure Blue Cremation Urn – and the reason is simple: it features beautifully-wrought flowers in many of shades of blue. When I look at it I feel relaxed and soothed; I also love the shape, classical styling and the elegant base. In addition to the adult size, this also comes in an oversized version (double capacity) to store two sets of ashes, known as a companion urn.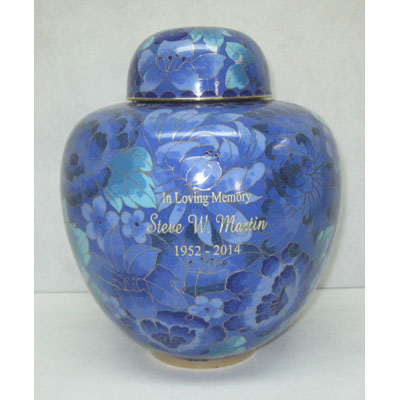 My second favorite is, in my humble opinion, gorgeous in its simplicity. I believe it calms me in a far different way than the previous is the cremation urn called Wings of Freedom. The powerful eagle soaring across a beautiful blue sky is easy on the eye and creates a feeling of peace, hope, and serenity.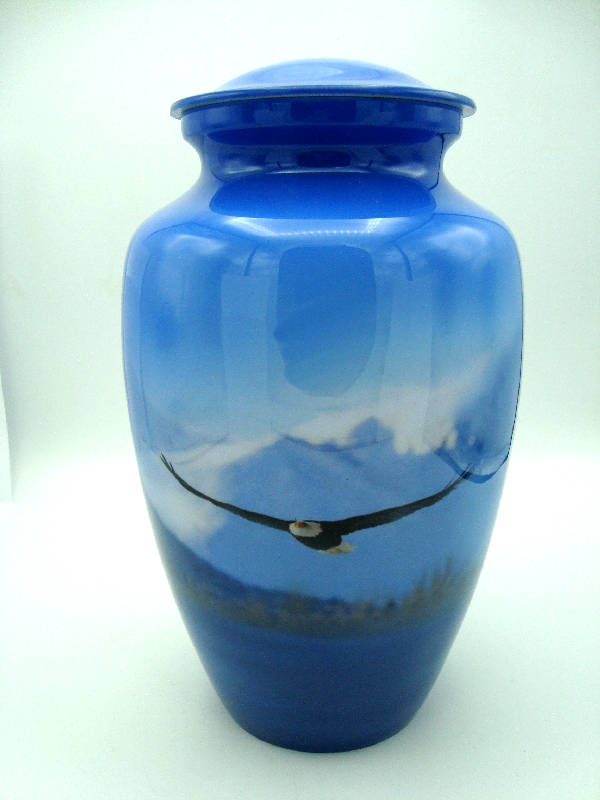 Why did I choose these two urns? It's because their respective (and very different) beauty almost takes my breath away. As does this next blue cremation urn.
Blue Keepsake Urns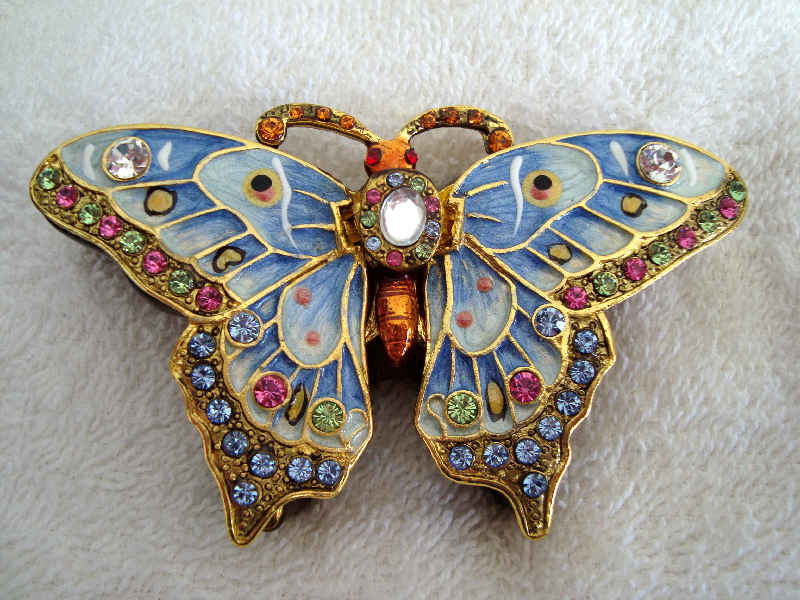 My #1 favorite in this category is the Blue Butterfly Keepsake Urn. Its intricacy calls to mind (at least for me), the stunningly gorgeous Imperial Eggs of Faberge. (Want to feast your eyes on some of those beauties? Check out "The Imperial Eggs" on the Faberge website.) Reviewers like it too; "awesome," "beautiful" and "perfect" were three comments left by buyers.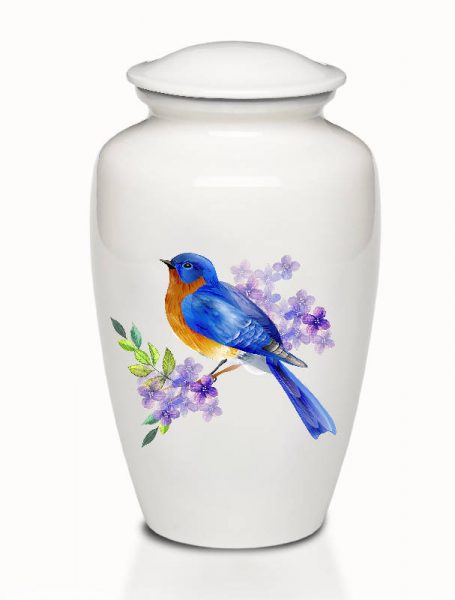 Another sweet and small keepsake for ashes is the bluebird. So tiny and detailed, it will hold just a pinch of whatever you want to store inside.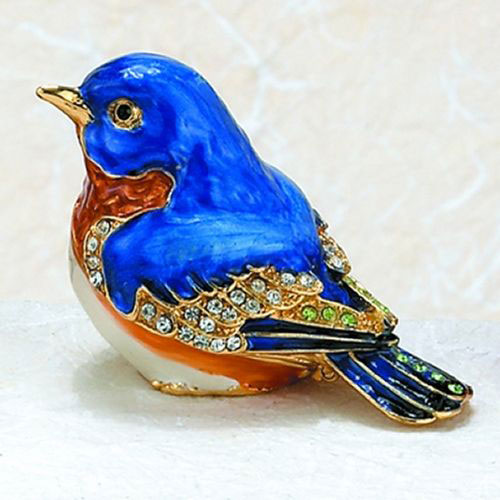 Now, let's look at another blue cremation urn, this time, from our cremation jewelry collection.
Blue Cremation Jewelry
The very-fashionable Blue Glass Bead Urn Bracelet is described this way: "Icy blue glass beads and antiqued silver spacers: and while they are eye-catching, it's the tiny stainless steel heart that holds the magic – and a small amount of a loved one's ashes. (If you like it as much as I do, but blue isn't your first choice of color, you'll be happy to know it's also available in Emerald Green, Purple, Sweet Pink, and the truly eye-catching Black and White.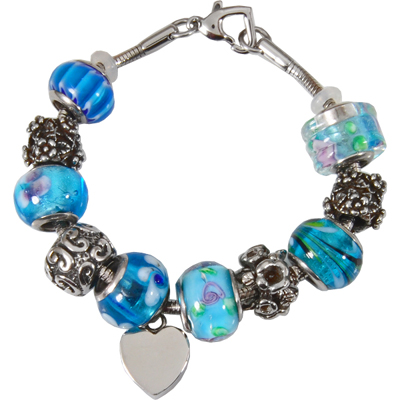 If I've whet your appetite and you're now eager to see more of our popular blue urns, we've created a special link for the complete collection of blue urns, also, back in 2017 we published "Forever Blue: Our Top 5 Blue Urns for Ashes." Be sure to check out that post for more blue cremation urns (not featured in this post. You may also enjoy reading the 2014 post "Urns for Ashes: Baby's Got Blue Eyes.")
One more thing before I go. If you'd rather pay tribute to a loved one born in March, but aren't a fan of any shade of blue – perhaps referencing the bloodstone is more appropriate. And this hardwood urn has the potential to become a more inclusive memorial, in that the Companion Double Wood Urn, designed as a companion urn capable of safekeeping the ashes of 2 adults; provides a second compartment could be used to hold mementos or photographs.
Thank you for joining me today – and here's hoping spring comes to stay for a while. (In my world, it's as if she knocks on the door and then runs away!)
Need help? Start here.