Did you know blue is the most popular color in the world? If blue is your favorite color I'm sure you'll enjoy this post because I'm going to share Urn Garden's 5 most popular blue cremation urns.
What's so Special about Blue?
Psychologists tell us blue is identified with depth, harmony and stability; people who love the color are sensitive, in tune with their emotions, and introspective. For many, blue symbolizes loyalty, faith and trust. Blue–in all its shades– serves to calm the mind and heal the spirit.
I hope you'll agree: the blue urns featured here are beautiful reflections of the emotional and psychological significance given to the color blue. Handcrafted of metal, each of our top 5 blue cremation urns is unique. It's no wonder they're so popular.
With its classic lines, our Mystic Blue Urn for Ashes is appropriate for the ashes of either a man or a woman. It can be personalized too; with an optional laser engraving.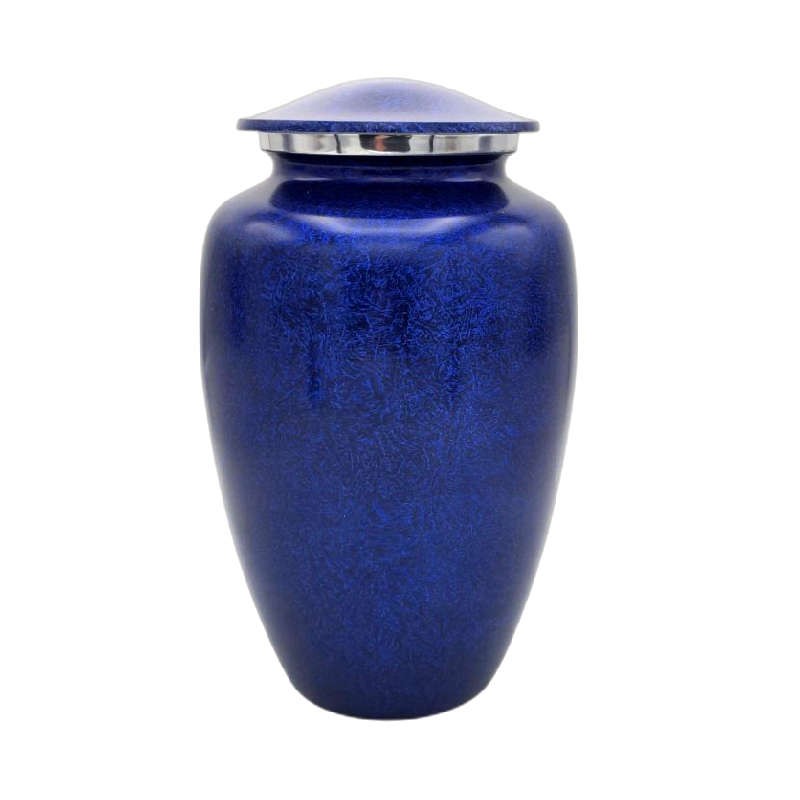 Our Gone Fishing Urn for Ashes is very popular with families who wish to pay tribute to an outdoorsman or woman who loved the tranquility of deep sea or fresh water fishing. It too can be personalized by engraving on the surface of the urn. Hand painted, this metal blue urn features multiple layers of lacquer which give it "a glassy sheen".
According to color psychology experts, blue expresses calm, gentle, serene feelings while also expressing growth, strength and spirit. For many Urn Garden customers, this makes our Royal Blue Cremation Urn the perfect choice to honor their loved one. Trimmed in shimmering mother of pearl, it makes a beautiful memorial and can be personalized with laser engraving which comes through as gold lettering against the navy blue enamel.
Unlike the previous three blue urns, Our small Blue Heart Sharing Urn is a rich, dark blue keepsake urn, intended to hold only a portion of ashes. It comes with a display stand.
Sometimes it can mean a lot for family members to share a loved one's ashes. If this popular blue heart sharing urn isn't to your liking, but you appreciate the impact it can have to share ashes with others; you might take a look at our other hand-selected Urns for Sharing and Scattering Ashes.
The final blue urn featured in this top 5 list is our Forget Me Not Urn for Ashes.

Here, classical styling is complemented by its ombré coloration. You may already know: "ombré" is the gradual blending of one color hue to another, from light to dark. Like the others, this blue cremation urn can also be engraved.
You might not remember the Chris Issak 1996 song "Forever Blue" but I sure do. It's because, for me, he captured the deep sadness of grief symbolized by the color of our blue cremation urns:
"Nobody ever warns you
Or tells you what to do…
You're left to stay
Alone forever blue…
The stars have all stopped shining
The sun just won't break through
Each day's the same
More clouds more rain
You're left forever blue…"
For me, "Forever Blue" describes the raw emotions of grief. When you add other aspects of our perception of blue–loyalty, trust and faith–you can see how our blue urns have a deep significance.