Always nice to hear a kind word from our customers.  Paul's wife passed away in December and wanted a double urn for her and a final resting place for him.  He preferred an urn with a hummingbird carved into the wood.  This wasn't the first cremation urn he had purchased.  He bought a cheap wood urn and was disappointed in the quality and decided he wanted an American made memorial urn with a carved hummingbird. And then?  He entered the Urn Garden.
Hi Lenette,

The beautiful urn came this morning.  It is exactly as planned. Such beautiful work.  Please commend the artist. Thanks again for being such a help.

Paul C,  Garden Ridge, TX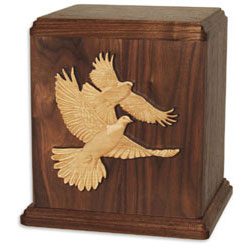 Our master craftsmen were able to create a custom solid walnut wood urn similar to the one pictured above only with 3-D inlay. It's hard to capture the beauty and warmth of the wood urns in pictures, but Paul was pleased and also ordered a memorial garden stone engraved with a poem and their names.  He plans to place in his patio courtyard near the fountain.