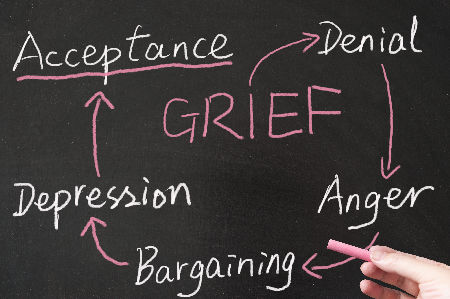 In less than two months, I'll turn 65; a sobering fact. As I look back over my life from this vantage point, I can clearly see how loss, and the grief it provoked, has shaped many of the choices I made. Loss came in all forms: the loss of innocence due to childhood sexual abuse, the end of a career, ill health, divorce, the end of friendships and, of course, death. Chances are good, if you're a Boomer too, you've also experienced a significant amount of loss in your life. And, if you're like me; some losses were easier to deal with than others. Have you ever thought about what's involved in coping with grief and loss well?
The Psychology of Grief
Psychologists and doctors have been studying grief for a long time now; beginning with Sigmund Freud in 1917. That means, for just over 100 years, many professionals have proposed models denoting stages, processes and tasks of mourning. All of them together – no matter the labels given – put a different 'spin' on the experience of successful, productive grieving.
4 Ways to Successfully Deal with Grief and Loss
Perhaps successful isn't the right word; grieving a loved one, whether it's a friend, spouse or pet, isn't a finite process; it becomes woven into the intricate fabric of your life. Instead, let's use 'fruitful.' Healthy grieving–actively working toward (or through) the following four aspects of mourning can create positive changes in your overall well-being:
Acceptance of the Loss
When tragedy strikes, people often experience disbelief. And if the old adage, "seeing is believing" is true, it's easy to see viewing the deceased can help one to accept the truth. Sharing the news with others –allowing them to witness and share in your sorrow– is another way to validate the truth of things.
2. Allow Yourself to Experience Physical and Emotional Pain
Don't push it away; don't ignore it; don't self-medicate with alcohol or drugs. Get assistance in assessing and addressing physical pain from your doctor. See a grief counselor, attend a grief support group, or talk to your pastor for additional support. Grieving is always best done in community.
Re-Create Your Life's Meaning
Counselors call this activity "meaning making," described by Thomas Attig as a self-conscious, deliberate initiative, to bring new meanings into existence as we grieve, to as to strengthen the connection to the deceased while embarking on your own life.
Re-discover Your Enthusiasm for Life
Grief turns life grey and colorless. Our enthusiasm wanes after the death of a loved one (or another such devastating loss), and it's so very hard to carry on with the day-to-day chores (moreover rebuild your life). Over time, through the pursuit of fruitful, purposeful grieving, the world can once again become a welcoming, exciting place to be. One more thing before I go…
Urn Garden's Articles and Resources on Grief
I'm of the strong opinion that unresolved grief is a major factor in much of the misery I see around me. After all, most of us were never taught how to properly handle grief and loss. Here are two examples from my life; maybe they'll be familiar to you. The only time I ever saw my dad cry was when his brother died in the early 1960s. One afternoon of tears, and then neither the brother nor his death were ever discussed again. When my mother's mom died in 1966, she stayed in her bedroom for weeks, crying. Once she left that sanctuary, grandma's name was rarely spoken.
The underlying message from society is to "get on with your life." Surely, that's very constructive advice in some situations; but only if the timing of the message is right. A mourner still in the early days of grief, when 'acceptance' is the task won't be able to hear the value in the suggestion; it will only feel cruel to the listener. When you feel unsupported, turn to people who truly understand; preferably people who've grieved a loss and know (to some degree) what you're experiencing. Read what others have to say about coping with grief and loss. To facilitate this exploration, here's a list of other grief-related posts here at Life in the Garden:
Easing a Broken Heart: Pet Loss Grief
Children's Grief, Books and Resources
Audiobooks on Grief and Loss
Anticipatory Grief: One Woman's Story
How to Get through Grief and the Holidays
Self-Care for Caregivers: The Art of Living with Dying
As I close this post, I've got to say just one more thing about coping with grief and loss. Because it's such an all-pervasive human experience, it's important to make friends with it. While you may not welcome grief into your life, it's nice to be on familiar terms with its dynamics.