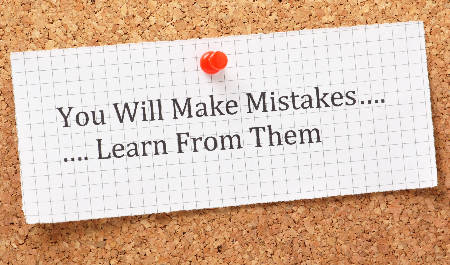 Before you roll your eyes, stop and think about what I'm saying: making funeral arrangements is a lot like hosting a social gathering (I hate to call it a party, but I will) and you have to do it when you're feeling your worst. It's almost inevitable some mistakes are going to be made, both in funeral planning and the follow-through.
Unlike the aforementioned concept of a 'party ', the event you're planning isn't one where people mill about without direction, talking about themselves. It's a gathering which includes a choreographed performance – one where it's intended members of the audience are encouraged to participate. The whole effort is complicated by many factors, not the least of which is the heavy grief felt by everyone involved, which can easily lead to mistakes.
Okay, maybe mistakes aren't at all humorous at the time, but enough of them are to ensure YouTube has a vast collection of 'funny funeral mistakes.' Take "When Singing at a Funeral Goes Wrong" for example. But, most only mar what was to be a memorable occasion. Then, there's the fact you can never get a "do-over.' Your loved one's funeral will happen only once. That realization can put pressure on you – but if you've ''bought time' by requesting additional cold storage time (if the arrangements include whole-body burial) or by selecting cremation as your loved one's disposition option.

There are dozens of other online articles about funeral mistakes. So man you'd think this one redundant and unimportant. I'm hoping not; it's my intention to be a fresh, more holistic look at the issue. Here we go with our guide for avoiding funeral mistakes:
Funeral Planning Tips to Help You Avoid Mistakes
Here's the truth of it: when you choose to live in community it's like you've entered into a 'social contract' with those in your closest circles. You agree, in effect, to come together when social expectation (and maybe personal desire) demands it. We're required to collectively celebrate: births and birthdays, graduations, marriages, anniversaries, business promotions, award presentations, retirement parties and, funerals. Unless you live in a remote cabin in the woods, that's what you've agreed to do, in exchange for the numerous benefits of living in community.
Don't Make it About You
You're not there to shine more brightly than others; you're there to support and comfort the bereaved family. Remember, funeral or memorial service attendance is a selfless, altruistic action, which requires that you forget your (to a large degree, anyway) own needs and focus on those of others. In short, you're there for the benefit of other: to honor the deceased and care for the emotional well-being of his or her survivors.
Dress appropriately to your role.
That means different things for everyone in the room; if you're a close family member, you'll dress in a way as to demarcate yourself from the guests. If you're a guest, 'dressing appropriately' can mean different things depending on the funeral situation.
Here in Santa Cruz County, it's not unusual for guests to wear bright, summer-related shirts and dresses. Planning a memorial service? Don't ask too much of your guests: if the temperature is below freezing, don't ask them to wear beach attire. If you're unclear about the correct attire, ask the funeral director or a family member. Ladies, no high-heeled shoes, as they increase the chances of falling (especially if there's a graveside service involved.) what is it they say? "Wear sensible shoes." I'd add to that "wear comfortable clothes."
Contribute mindfully.
To say it another way, 'think before you speak." All too many times, funeral memories are marred by inappropriate, ill-times statements, made out of nervousness or a selfish desire to contribute. I can't tell you how many stories I have about inappropriate speech.' Remember, sometimes creating a deep connection with the bereaved via eye- or body-contact is far more powerful than words – especially if they're ill-conceived.
Don't be intrusive.
Other stories involve funeral attendees who think it's okay to interrupt or intrusively present their opinions or memories of the deceased. Remember what your mother told you: "Don't interrupt!" No matter how kind your words are it's important to deliver them in a polite, respectful manner. (If you're planning a funeral or memorial service 'put the call out' for speakers. Limit participation time, and organize contributors according to their relationship to the deceased. Consider the whole of the funeral experience, placing speakers into the order of service where appropriate.)
Don't Give in to Feeling Rushed.
Ed Michael Reggie, author of "The 4 Biggest Mistakes People Make When Planning a Funeral" noted another all-too-common (yet easily avoided) funeral mistake: feeling rushed and panicky" about making funeral arrangements. Even if the death is unexpected and no pre-plans are available, it's possible to 'buy time' by requesting extended refrigerated storage from the funeral home in question. If the deceased was cremated, you have "all the time in the world" to plan the memorial service. Either way, there's no need to do a poor job in funeral planning because you feel pressed for time.
Don't try to do it all alone. If you're responsible for planning a funeral or memorial service, call for assistance. No one can think of everything, much less get it all done in the required time. I would recommend putting everything in the hands of your funeral professional. It could be a traditional funeral director or, if you think a home funeral is appropriate, then you'll turn to your home funeral guide for help. (Of course, funeral home staff can make mistakes too; you'll find dozens of online articles on that subject. One of the best is Caleb Wilde's "Some of the Mistakes I've Made as a Funeral Director."
Let's Face It: Making Mistakes is Part of Being Human
Funeral mistakes happen, there's no doubt about that. When one occurs–whether you're the hosting family or a guest– it's important to remember Alexander Pope's oft-quotes words: "To err is human, to forgive, divine."

Still, with that palliative said, consider these tips to help you avoid the most common funeral mistakes.
Looking for more information surrounding funeral planning? We've covered funeral planning issues before, in two posts. The first, "No Funeral, No Flowers: What I Learned Planning a Memorial Service "is both personal and instructive. The second, "Planning an A-List Funeral. Goodbye Brooke Astor," is also worth your time (if only to answer the question, "Who is Brooke Astor?")!