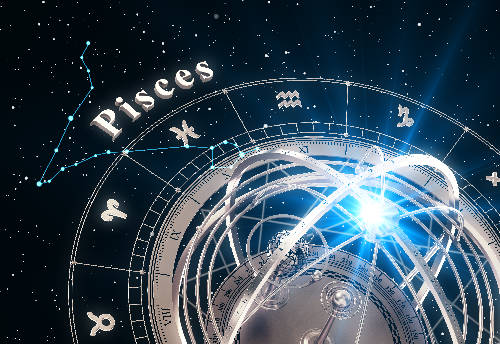 This week we're looking at the second of the astrology signs Pisces. Often represented as two fish, swimming in opposite directions, Pisces is (rather obviously) a water sign. According to reputable sources (see below); the opposing directions of the fish "represent the duality within the nature of the sign itself. People born under the sign (February 19th to March 20th) are ruled by the planet Neptune.
The Pisces Personality
I've only intimately known one Pisces in my life: my mother, Rosemary. Sadly, she was an alcoholic, so I was prone to seeing that quality as a trait of the astrological sign itself. Of course, I was wrong : it was her frustrated efforts to become a published writer (and a lousy relationship with life itself) that made her drink 'like a fish.'
It is said Pisceans are empathetic and full of "expressed emotional capacity." That's where the creativity comes in, I believe. Let me tell you, mother could really write: her single-spaced typewritten letters to family from the years she lived in Iran (1966-1979) were phenomenal. (I say "were" because they no longer exist. How I wish they did!) Publishing was a different business then – much harder to break into – and her short stories never made the cut with those she contacted. I know she died a very frustrated, unfulfilled woman. People born under the Pisces sign have an intuitive understanding of the life cycle and thus achieve the best emotional relationship with other beings.
What about the Negative Characteristics?
Some of the negative traits of Pisceans include fearfulness; the tendency to be overly trusting; sadness bordering on depression, and a deep desire to escape reality. Those traits describe Rosemary perfectly. However, some of the other traits ascribed to people born under Pisces don't fit my mother at all. But I think those variances had to do with being alive during the 20th century (a century rampant with ware and intolerance). Mother wasn't, as most Pisceans are said to be; "generous, compassionate extremely faithful and caring." But, no that I'm older, I understand why, and work to forgive and forget.
Now…Let's Look at Some Fulfilled Piscean Women
Sources tell me of all the astrological signs, people born under Pisces are inclined to be artistic and have a deep connection to music. That certainly describes our featured Pisceans this month; chosen in honor of Black History Month, Consider these remarkable African-American women:
• Alice Walker: Pulitzer Prize-winning author, who is best known for her novel, The Color Purple.
• Leontyne Price: Award-winning operatic soprano. known for the title role of Verdi's Aida
• Toni Morrison: Winning both the Nobel and Pulitzer Prizes, she is best known for The Bluest Eye, Song of Solomon and Beloved.
• Nina Simone: Considered an iconic jazz singer, songwriter, pianist, and musical arranger; Nina is also a civil rights activist.
• Marian Anderson: She is the first African-American to perform with the New York Metropolitan Opera in 1955.
I could add so many more African-American women to this list, including Rosa Parks, who changed our world by her actions on December 1st, 1955. (Perhaps it was her astrological gifts of empathy and compassion in action.)

What's the Birthstone for February?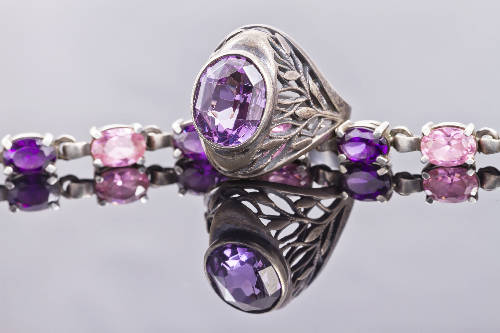 It's the Amethyst, a gorgeous Quartz gemstone. It's said to be extremely durable and scratch-resistant. Could be that's one of the reasons for its "rich history of astonishing civilizations with its stunning, saturated beauty."
From the Neolithic people living in Europe around 25,000 B.C. to the Greeks, Romans, who valued the stone highly. Bishops of the Christian church wore amethyst jewelry, for "its color was meant to symbolize royalty and an allegiance to Christ. Members of the Catholic clergy wore amethyst stone in their crosses because their amethyst meaning was one of piety and celibacy." (Source: Energy Muse)
Did You Miss January's Astrological Post?
If so, you're in luck: here's the link to "Astrology Signs and Birthstones: January". There's another, perhaps more important post I don't want you to miss – last week's "How to Avoid Funeral Mistakes When Planning a Funeral."
Next week, we're going to look at some beautifully designed cremation urns we feel are appropriate for the Pisceans we've loved, and lost. Until then, have a fine remainder to the week!
Sources:
Wikipeidia.org/wiki/Pisces_(astrology)
Wikipedia.org/wiki/Amethyst
Astrology-zodiac-signs.com/zodiac-signs/pisces/
Energymuse.com/ameth-meaning
Blackintime.info/black-birthday-monthly.html