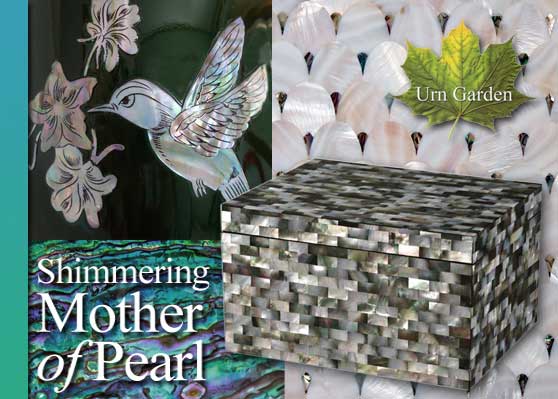 Today, I'm writing about two of our most beautiful–and unique–mother-of-pearl cremation urns. Their shape makes them extraordinary; unlike traditional vase-shaped urns, inlaid with mother-of-pearl, as those featured in the recent post, "Rose Cremation Urns for June", these are hand-crafted mother-of-pearl cremation boxes. Take a look–if you appreciate the symbolism of this iridescent seashell, I think you'll like what you see.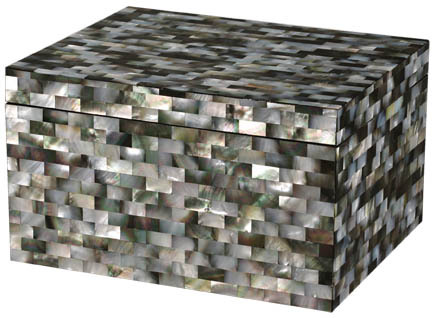 First up: the hand-crafted Iridescent Mother of Pearl Cremation Box. It's a truly gorgeous blend of light and dark mother-of-pearl. It's almost 10 inches high, 8 inches deep, and nearly 10 inches wide – which means it will fit in most cemetery cremation niches. Large enough to accommodate the ashes of an adult, this cremation box is a perfect repository for the standard sized container provided by a funeral home or crematory.
The Symbolism and Significance of Mother-of-Pearl
First, let's ask "what is mother-of-pearl?" It's nacre, the inner lining of different mollusk shells, pearl oysters, freshwater pearl mussels and abalone. *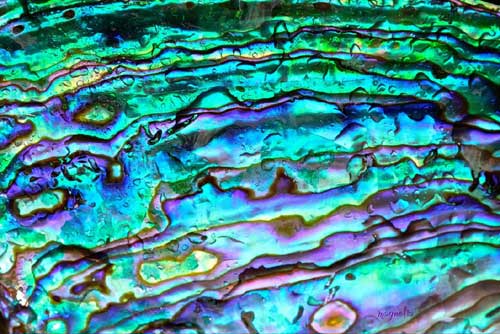 For many, mother-of-pearl provides comfort and solace; for others it's a reminder of the "greatness of the oceans, a life of beauty, gentleness, caring, comfort, peacefulness, and delight." It is also said to stimulate your intuitive sense and imaginative abilities and remind us of our beginnings:
"Mother of Pearl stirs and awakens the primordial memory of your origin in the infinite ocean of divine love and stirs this memory in every cell of your physical body thereby producing an overall calming effect as it gently stirs the life energy of your cells. Like waves lapping the shore, this stirring is steady, relaxing, and rhythmical."~ Cherry Hill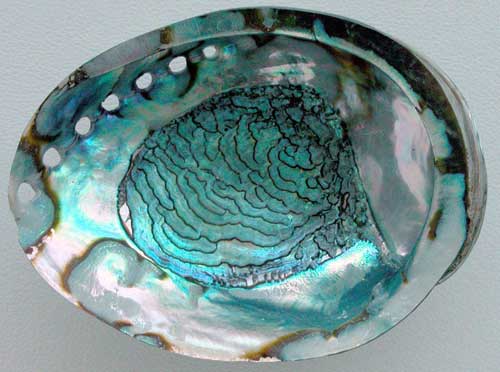 A Second Mother-of-Pearl Cremation Box
The light, almost unearthly presence of the Shimmering Mother of Pearl Cremation Box is a perfect contrast to the previous variegated style. It reminds me of an angel's wings and when you hold it in your hands; I think you'll agree with me.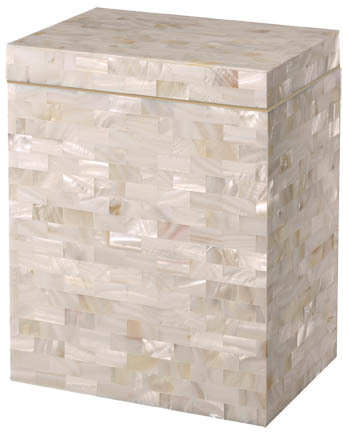 More tall than wide, this mother-of-pearl vessel measures 10″ high, 8″ wide, and is nearly 6 inches deep. It will accept the temporary containers provided by funeral homes. If you love the beauty of mother of pearl but not fond of the box style, there are vases with highly polished enamel and mother of pearl inlay that are stunning. See the complete collection of mother of pearl urns here.
If you like the idea of a cremation box, but aren't sure mother-of-pearl is exactly what you're looking for; you'll want to see the other cremation boxes we offer. There are scenic cremation boxes with western themes like the Cowboy on the Range Cremation Box, and the stunningly simple Teak Wood Cremation Urn. Visit the "Boxes and Containers" to see the complete collection available at Urn Garden.

*Sources:
"About Mother-of-Pearl – History and Introduction"
"Day 21~ Sea Shells, their Meanings and Magick"