Memorial Urn Jewelry: A Touching Way to Honor the Memory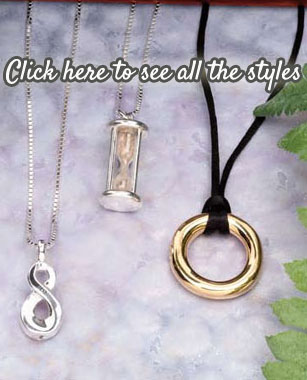 For families that have chosen cremation, final disposition of the ashes is a deeply personal choice. Families that plan a burial or spread the ashes may prefer a small keepsake urn to keep dried ceremonial flowers, a small portion of ash, lock of hair, or sacred burial ground.
A popular choice for these families is cremation. Early examples of mourning jewelry can be found as early as the 15th and 16th century when black and white enameled heads or skulls were often set into rings and brooches. Later, the memorial jewelry evolved into more elaborate designs and became a status symbol to present to bereaved friends. Urn jewelry reached its popularity during Victorians times and the Civil War.
In Europe, popular keepsake jewelry styles of the times were black and white enameled rings, or gold with an enameled locket to hold a lock of hair. As time progressed, brooches made from jet and plated hair designs began to appear. During the Civil War, soldiers would leave a lock of hair with their families, and upon their death the hair would be placed in a locket, urn pendant, or fashioned into a piece of mourning jewelry.
Today, with the cremation rate climbing, mourning jewelry has evolved into cremation jewelry. Many families choose urn pendants to be worn as a necklace, brooch, or bracelet. Updated cremation urn jewelry designs are crafted from silver, gold, titanium, quartz crystal, and semi precious stones. The main difference in today's keepsake cremation jewelry is that the designs are discreet and indistinguishable from other fine jewelry.
Masculine styles of memorial jewelry include titanium bracelets, motorcycle jewelry, or gold cylinder urn necklaces. In addition, pet urns and nature themes like four leaf clover necklace urns are popular styles for men.
Many families choose a Celtic knot or cross shaped keepsake pendant for their urn necklace. Gold and silver hearts and abstract designs like the silver infinity cremains necklace or rectangle, or gold teardrop jewelry are some of the many attractive styles in todays keepsake pendants.
Many styles of urn jewelry can be further customized to include engraving or incorporating a photo. Most funeral directors are familiar with filling the cremation jewelry, but for the families that have the ashes or keepsakes in the home, the cremation urn jewelry comes with instructions and tools for filling.
Dealing with the loss of a loved one is a very personal decision. Finding a way to honor the deceased life and the relationship that you had with them can be a very healing process. Urn jewelry is easy to clean, and can be displayed and protected as a true keepsake in a glass dome, when not being worn. For this reason, urn keepsake jewelry is a popular, touching way to keep a loved one close and honor their memory.
Urn Garden offers a variety of quality, low-cost burial and scattering urns, cremation keepsake jewelry, medallions, and memorial stones to fit your style; creating a lasting memorial for the departed. Whatever your style, we're honored to help you make a difficult selection a little easier. Thank you for letting us serve you..