As learned in the children's tale, "The Tortoise and the Hare," sure and steady typically win the race. Those who can relate to turtles can fully understand this message as turtles symbolize patience and endless wisdom. Their ancient souls have learned the art of adapting to new surroundings and environments, whether on land or in water. In the spirit world, turtles bring the gifts of longevity, fertility, blessings and journeys while carrying the energies of patience, protection and self-pacing. Based on those qualities we were inspired by the symbol of the turtle to create an urn from bronze. Made in here in America, bronze will last forever and be a lasting tribute to your loved one.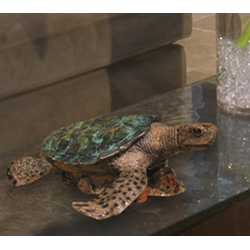 As one of the oldest reptiles living, turtles remind people to slow down. Life is a journey, so sit back and enjoy it! But people can also learn to ground themselves in the protective energy that is the earth and follow those energies at a pace to ensure success.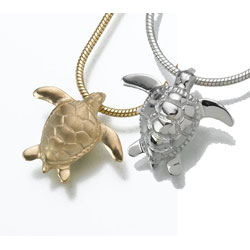 Great Protectors
Turtles understand the need for self-protection as well as protecting those they love. Their hard shells are comparable to a spiritual shell or armor you can have to protect yourself from negativity, painful memories and harmful influences. This symbol has been adapted on a smaller scale to use as a personal mini memorial with our turtle urn pendant in your choice of silver or gold. The pendant has an opening on the back and that's where it is filled with the ashes.
The inner wisdom of turtles' spirits comes from being allowed to go inside and find peace and safety. Often thought to be the wisest of souls in the animal kingdom, turtles understand and take their wisdom one day at a time. They move at their own pace, not worrying or carrying what others think.
Turtle Symbolism
Turtles are long-lived and have carefree attitude, but their bodies are very symbolic. The shell represents the heavens, its body the earth and its under-body symbolizes the underworld. A turtle's symbolism differs depending on country of origin. Hindus see turtles as lunar creatures, while in China, they are symbols of strength. In Japan, turtles are gods of the seas and in West Africa, they are symbols of fertility and feminine.