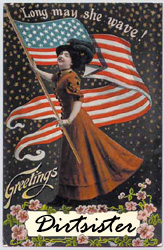 The hearse that carried the body of President John F. Kennedy failed to sell at a classic car auction in Seabrook yesterday.
Apparently the highest bid of around $900,000 wasn't enough for the owner of the historic vehicle.
After his mother-in-law's funeral, Nathaniel Craigmiles saw the exact casket that had cost him $3,200 in Tennessee selling for only $800 in a New York City store. Hmmm.
Craigmiles, pastor of Marble Top Missionary Baptist Church in Chattanooga, Tennessee, saw a good business opportunity. He opened his own casket store and set his prices 30 to 50 percent below what other Tennessee casket dealers were charging.
After the business was open one week, however, the Tennessee Board of Funeral Directors ordered Craigmiles to stop selling caskets.
That's because Tennessee law states that anyone who sells a casket must also be a licensed funeral director. To accomplish this, one must go through two years of training (which costs thousands of dollars), embalm 25 bodies and pass a license exam.
To sell a box. Outrageous! Full story here. This same scenario has been played out in several other states, among them, Oklahoma, Maine, Georgia, Mississippi and unsuccessfully in Missouri.
We're crazy for the Soprano's and found this article on the funeral home featured in the show. While familiar with the iconic HBO series, it was not yet must-see-TV for North Jersey funeral home owner, James J. Cozzarelli Jr.
"Actually, I don't have cable. I have rabbit ears," Cozzarelli says.
And the colorful Cozzarelli has become a celebrity. Although an elder actor (Ralph Lucarelli) played him for the first few episodes, the real man has since appeared as the show's funeral director.
Cozzarelli, who now has his own design business, calls his upstairs home the "secret rooms." Though viewers never got to see them, because "Sopranos" creator David Chase was afraid of damaging the priceless, palatial-style finishes and furnishings (including several optically pure crystal chandeliers that are so sensitive one has to don surgical gloves to touch them), Chase and his cast loved to hang out up there during breaks.
"Except Paulie," Cozzarelli says of actor Tony Sirico. "He never came up. Deathly afraid."
Today's tip for better living: BAD BREATH IS BETTER THAN NO BREATH!