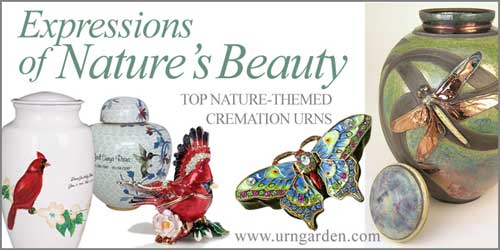 Did your loved one find solace in nature? Did trees, ocean waves, birds both colorful and common, fill his or her heart with joy? Certainly, they lived in good company; lots of people feel strongly about the power of nature to heal and restore the spirit. If nature played a big role in the life of your loved one–or in your own–we invite you to look over our top-selling nature urns.
Nature Urns Can Be Seen as "Infinitely Healing"
Rachel Carson, in her acclaimed book, Silent Spring, may have said it best when she wrote "Those who contemplate the beauty of the earth find reserves of strength that will endure as long as life lasts. … There is something infinitely healing in the repeated refrains of nature — the assurance that dawn comes after night, and spring after winter." Now, let's take a look at five of our best-selling nature urns.
Capture the Power of the Sea with Our Ocean Urns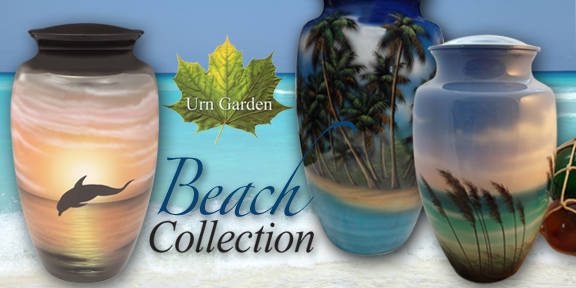 "…how much I have gazed at these beautiful creatures… as they changed their hue in twenty varieties of richest arrangement of tints." ~John James Audubon
Dolphins, just as human beings, are social; they form close bonds with other group members, and are fully capable of enjoying their lives. And just like us, dolphins form close bonds with other members of their group.
This playful, social nature is evident in our Bronze Dolphin Cremation Urn. Intended to hold the ashes of an adult, this metal dolphin urn measures 9.5" high and 9.5" wide–making it an eye-catching addition to any room. This dolphin cremation urn features a secure, bolted panel on the base and and is made by American bronze artisans.
"The sea is emotion incarnate. It loves, hates, and weeps. It defies all attempts to capture it with words and rejects all shackles. No matter what you say about it, there is always that which you can't."
~Christopher Paolini
What is more beautiful than tall oat grass swaying gently in the breeze among the dunes? Our Santa Rosa Beach Cremation Urn captures a tranquil sea beneath a sunset sky. This 11"-high adult-sized urn is made of metal, features a secure, threaded lid, and comes with a complimentary storage bag.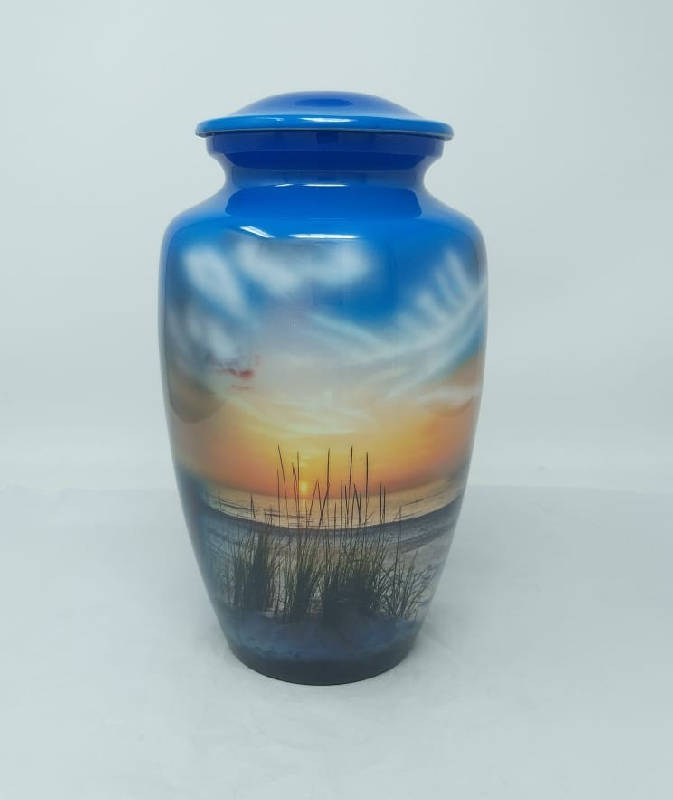 "We are tied to the ocean. And when we go back to the sea, whether it is to sail or to watch – we are going back from whence we came." ~ John F. Kennedy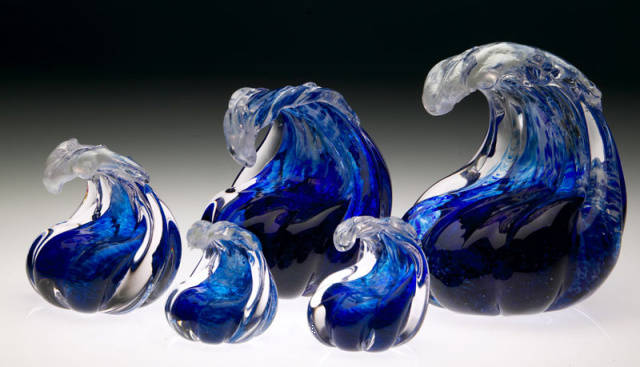 Our Big Sur Ocean Wave Keepsake Urn is one of two versions. Not a full-sized cremation urn, the larger of these two hand-made ocean urns holds about a cup of ashes. The smaller keepsake urn holds only a small portion of cremated remains. We're proud to say these blown-glass ocean urns are made in the United States.
Our Top-Selling Cardinal Urn
"I hope you love birds too. It is economical. It saves going to heaven." Emily Dickinson
One of our most popular nature urns is the Cardinal on Dogwood Flower Urn. It seems for lots of folks the cardinal is a symbol of power and enthusiasm–making this urn a wonderful tribute to a loved one who zestfully embraced life.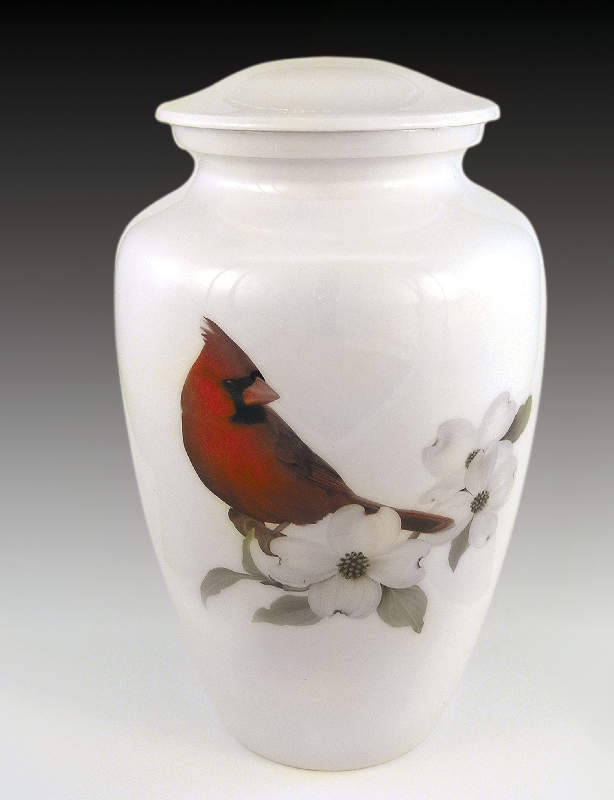 There's a second layer of significance for Christians: the Dogwood blossom has special significance as it "bears the scars of Jesus' crucifixion. The petals are tipped with blood-fringed nail indentations, the flower is cross-shaped, and the center represents the crown of thorns." (Source: Reference.com)
In nature, Cardinals are very active songbirds and sing a variety of different melodies. (Source: National Geographic) Perhaps it is for this reason many believe cardinals appear (and sing, of course) when angels are near. Our cardinal urn is a standard adult-size, made of metal. It features a secure, threaded lid and comes with a velvet storage bag.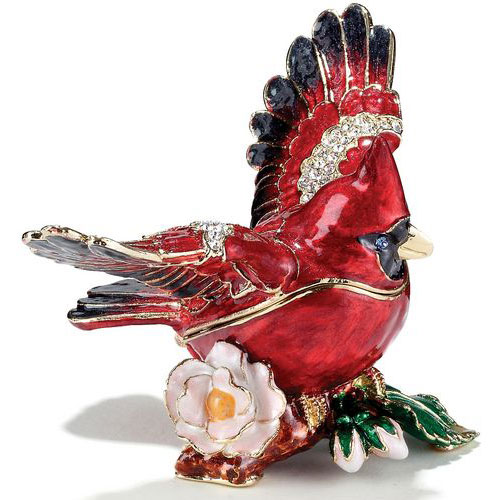 Last but Certainly Not Least, Our Best-Selling Butterfly Urn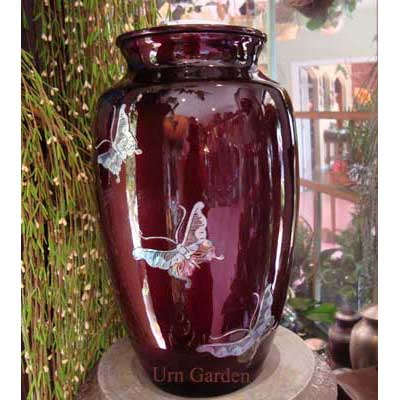 "Beautiful and graceful, varied and enchanting, small but approachable, butterflies lead you to the sunny side of life. And everyone deserves a little sunshine." ~ Jeffrey Glassberg (Source: Butterfly Website)
Why butterflies? In many cultures, the butterfly has long been a symbol of transformation, renewal and rebirth. Measuring 10.5" high by 6.5" wide, this Ruby Butterfly Cremation Urn is large enough to hold the ashes of an adult.
Its classical vase-shape–combined with the rich, deep plum high gloss lacquer and the inlayed mother of pearl butterflies–makes it a beautifully decorative display in any room of your home. Made of metal, this butterfly urn features a secure, threaded lid, and comes with a complimentary velvet storage bag.
Heal and Restore Peace-of-Mind with Urn Garden's Best-Selling Nature Urns
The death of someone dear to you brings with it an enormous amount of social, spiritual and psychological change. And bereavement can be described as a roller-coaster of emotions. But nature as well as the image of nature's beauty portrayed on a nature urn, can help you–each and every day–to navigate through the loss. John Muir said it well: "Nature's peace will flow into you as sunshine flows into trees. The winds will blow their own freshness into you, and the storms their energy, while cares will drop off like autumn leaves."