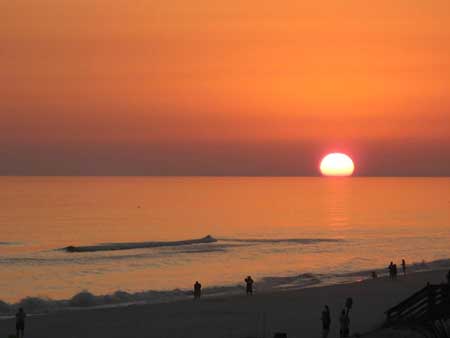 "By all these lovely tokens September days are here,"  Helen Hunt Jackson writes in her poem, September. "With summer's best of weather And autumn's best of cheer." Even though autumn brings cheer, I still find myself feeling a bit sad for the change of seasons. Summer seems to take too long to arrive and disappears all too quickly.
To celebrate this change and revisit what is–for many people (including me)–one of the joyful experiences of summer: afternoons spent at the seashore; I'm going to look at beach urns.
"In the tranquil waters of the sea
where cool water runs in waves where there is only me
azure wave shadows melt across the pure white sands…" (Source)
Santa Rosa Beach Urn for Ashes
One of our family favorites is the Santa Rosa Beach cremation urn, it's named after a popular seaside community and was inspired by one of our customers who was fulfilling their dream of retiring at the beach when life took an unexpected turn.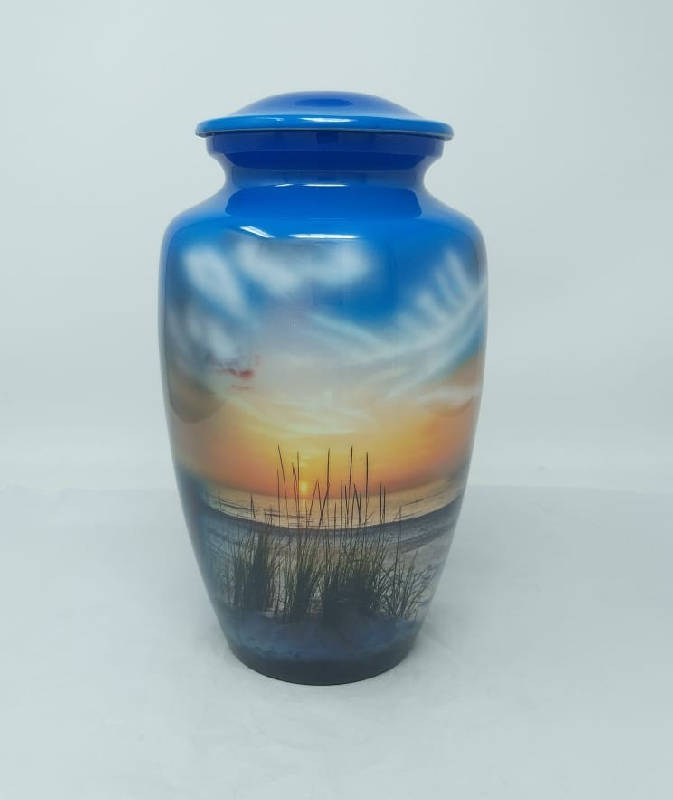 This style is hand painted in soft muted colors of the fading sunset over the water and framed with sea oats that gently sway in the wind. We can laser engrave a name and dateline, brief verse or sentiment if desired. Pretty, peaceful and suitable for male or female. This is a standard size that will contain all of the ashes of an adult.
Sea Shell Cremation Jewelry
If you want a smaller memorial keepsake, there's jewelry like the sea shell below, and token size hearts and mini vases that will hold just a small amount of ashes or cremains. It's a personal choice and sometimes families will order mementos for grandchildren or extended family.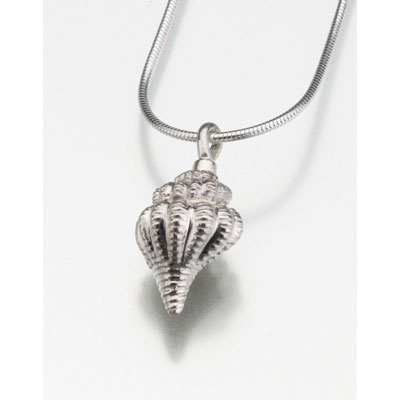 Maui Beach Cremation Urn
While we're not the only source of urns for human ashes offering the Maui Beach Cremation Urn. we are the only one to offer engraving.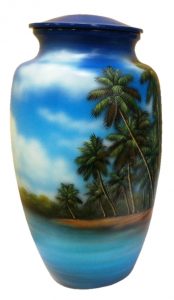 For a nominal fee, you can customize with up to three lines of engraving (a total of 99 characters).
Maui Beach is a gorgeous, classically-shaped metal cremation urn. The hand-painted scene features a sandy beach, azure blue water and tall, elegant palm trees. Storage capacity is the standard 200 cubic inches, making it suitable for the ashes of an adult. It stands 10.5 inches tall and measures 7 inches at its widest point. If you and your loved one liked the beach, this memorial can be a reminder of the time you spent together strolling the sandy seashore.
Purple Siesta Key Small Heart Urn for Ashes
This small urn captures that beautiful beach sunset and is available in a large adult size. Take your pick of the purple of blue versions of Siesta Key, they are both family favorites.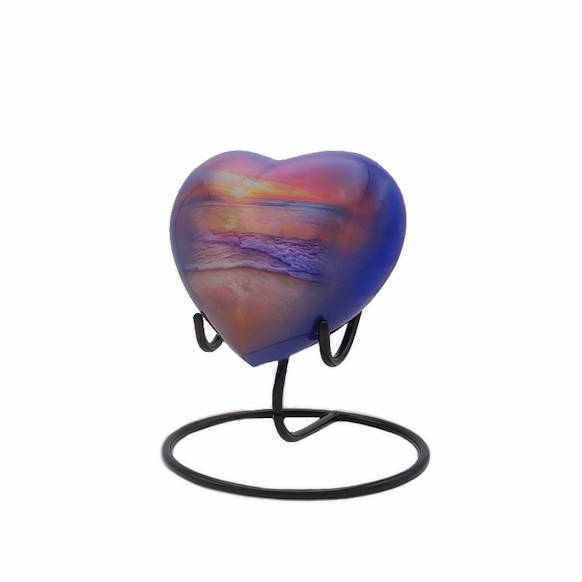 Tamora Pierce, in the fantasy novel Sandry's Book wrote of the deep connection we feel to the sound of ocean waves. "Waves are the voices of tides. Tides are life," murmured Niko. "They bring new food for shore creatures, and take ships out to sea. They are the ocean's pulse, and our own heartbeat." Source
Glass Art Ocean Wave Keepsake Urn, Made in USA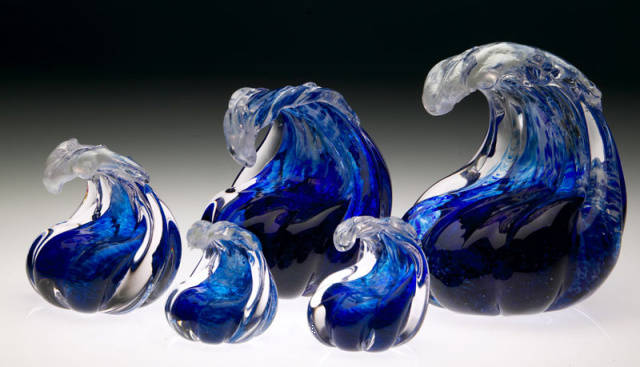 Our Big Sur Ocean Wave Keepsake Urn captures this life-giving pulse of the sea. It is of blown glass, hand-crafted by artisans in the United States. (Read "Cremation Urns Made by American Artists" for more on American urn artisans.)
This beach cremation urn comes in two sizes. The large wave can hold approximately 14 cubic inches (it's not a full-sized urn). The smaller wave holds only about 2 cubic inches of ash, making it a perfect keepsake to give to family members or friends.
Bronze Dolphin Cremation Urn and Jewelry
For many folks, dolphins share many things with us humans. Peter Singer wrote, "Dolphins are social mammals, capable of enjoying their lives. They form close bonds with other members of their group." And Joan McIntyre went one step further when she wrote "There may be a common thread of consciousness between man and dolphin." (Source)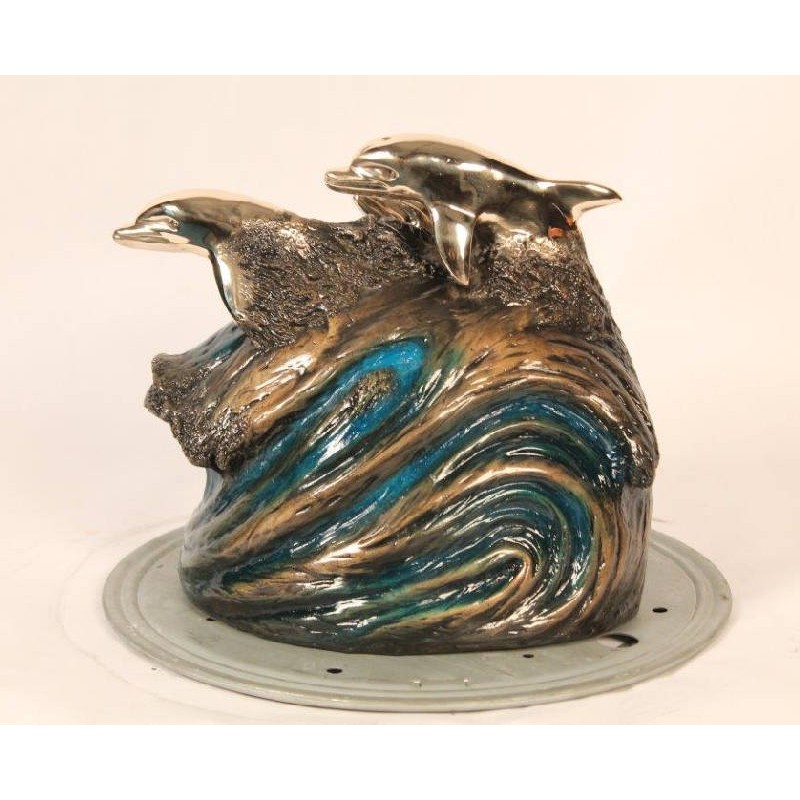 The dolphin as an animal totem expresses happy playfulness, sharpness of mind, and humor. As a spirit guide, "dolphin comes to those who need to reclaim their voice, communicating in effective, honest ways." (Source)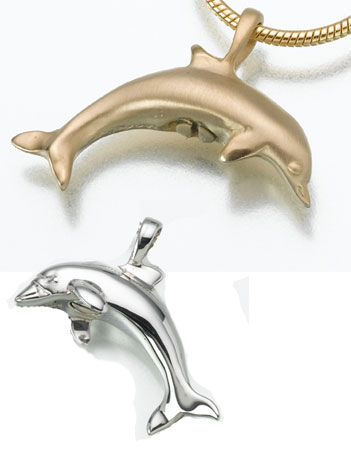 Customers tell me the Bronze Dolphin Cremation Urn expresses all those things: the kindred nature of our relationship with dolphins as well as their unique spiritual gift of helping those in grief reclaim their voices. This bronze metal sculpture features twin dolphins leaping in joy and riding a wave in the last rays of the evening.
Stay tuned for the next installment of the end of summer series, where I look at another wonderful memory of walking the shore: collecting sea shells. Until then, take time to enjoy the waning days of summer!