This time of year is so perfect for motorcycle riding, mild temps, beautiful fall colors make for a great road trip. One of our customers bought several of the motorcycle urn pendants to honor a fallen friend who was a renowned award winning custom bike builder. Several of the guys planned to have the little charms filled with his ashes and then mount the pendant under the headlight on the front forks so that their friend could always ride along. I've heard of the biker bells that are sometimes mounted on the crank case or on the underside of the frame. The pendants we sell are surgical stainless steel and will wear well on the road.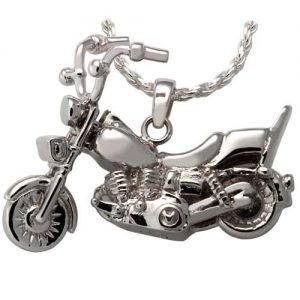 In addition to the jewelry, the family had commissioned an urn that was being customized from a Harley motorcycle engine, that they hoped would be ready in time for the funeral.
A less expensive option to memorialize a biker might be the Route 66 motorcycle urn. This is a traditional metal vase shape and has a hand painted highway sunset scene that features the mother road. So pretty and another way to pay tribute to the lifestyle.
With space for up to three lines of an engraved sentiment, this adult size urn can hold up to 200 cubic inches. Made from metal, it also has a secure threaded lid. Help honor your loved one's memory of his or her rides along the "Main Street of America"  beautifully designed by Urn Garden.
Riding along Route 66 is a lifelong dream for many bikers no matter what part of the country they live. The roughly 2,400-mile Mother Road runs through parts of California, Arizona, New Mexico, Texas, Oklahoma, Kansas, Missouri (its birthplace) and Illinois. It is by far, one of the most popular and scenic byways in North America.
Motorcyclists careening down Route 66 truly understand the romance of the road. Long rides and days away from the stresses of every day life are what many bikers relish and miss when they are grounded.
Although Route 66 is one of the country's first highways, only about 85 percent of it is navigable today. Most of the road has two- and four-lane arteries and unpaved sidewalk roads. Many local businesses still get their "kicks" on Route 66 by showcasing the highway's famous logo.