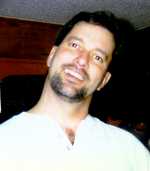 James Rogers
December 27, 1957-November 9, 2007

James N. Rogers passed away peacefully at St. John's Hospital after an illness with his family and friends by his side November 9, 2007. He was born in Springfield, Missouri.
James graduated from Hillcrest High School in 1976 and worked for Paul Mueller's and Watson Brothers Drywall. He was united in marriage to Debbie Watson December 21, 1982, and to this union one child was born, Sarah Marie, on July 4, 1983.
James loved spending his time playing softball, watching his favorite NASCAR driver, Jeff Gordon, or just soaking up the sun at the lake, but most of all he loved to spend time with his two granddaughters, Amirah and Angel, and his two grandsons, Joseph and Dominic.
Survivors include his wife, Debbie; daughter Sarah and Joe; granddaughters, Amirah and Angel; grandsons, Joseph and Dominic; brothers, John and his wife, Jean, and Tim and his wife, Gerri; sisters, Judy O'Bannon and husband, Bill, and Becky Hilmes and husband, Scott; father and mother-in-law, Ernie and Dixie Watson; brother-in-law Mike Watson; grandmothers, Opal Watson and Fern Neer; nephews, Mike and Chris O'Bannon, Travis and Shad Rogers; nieces, Kathy O'Bannon-Kincannon, Lori Rogers-Wheelis and Whitney Rogers; great-nephews, Sean and Kyle O'Bannon and L.T. Kincannon; great-nieces, Erin O'Bannon and Kasey Kincannon and a multitude of friends and co-workers.
The family would like to thank the staff of St. John's for the care and support of James, especially Dr. Evans, Cris, Jessica and Amanda. We appreciate your kindness during James' last stay.
Visitation will be Monday, November 12, 2007, from 6 to 8 p.m. in the funeral home. Funeral services will be Tuesday, November 13, 2007, at 10 a.m. in Klingner-Cope Family Funeral Home at Midtown. Interment will be private.