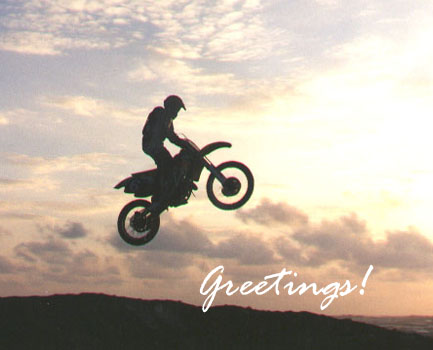 Motorcycles are a passion in the garden. And we've been thinking about the riders in our lives that have went down this past year.
Evel. Candace has a great perspective on this.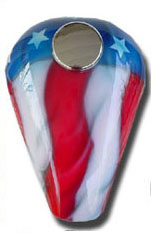 Sweet James who recently died from injuries sustained in a crash.
Dan Feather who died on his dream bike two weeks after he got it.
Keane Moss,17 and James De Anda, 19 on their dirt bikes. The helmet pictured below was used at the memorial.
Kevin Umlauf, trials and enduro rider. I remember when we were kids, Kevin was doing a wheelie on asphalt, lost control and completely scrapped the hide off his back and legs.
And then a guy I met a couple of weeks ago, Ronnie, who was hit on his bike in Branson on his way home from work on a Monday night during the first week in November. Driver was on her cell phone. Ronnie was invisible. He lost his leg, but not his life.
He looks pretty good, but is pretty pissed off. He worked a server in a Branson restaurant. His insurance has already dropped him and he's trying to secure disability. And build his upper body so he can learn to walk.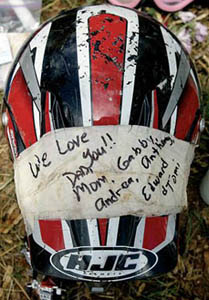 Have a great week!