I've been thinking about memorial gardens (sometimes called "memory gardens") ever since writing "DIY Memorials: Let's Talk about Memorial Gardens" last month. Here's an uncanny "fun" fact. Had she not died way back in 1988, my mother, Rosemary–briefly mentioned in this first post on memorial gardens–would have been 96 on February 24, 2018; the very same day Lenette published the post (without knowing the day's significance). I know; it's just a "coincidence"; still, it pleases me.
Meaningful coincidences aside; it makes sense memorial gardens have been on my mind. After all, I promised four more installments. Three will focus on "getting it done" one on selecting the right flowers, trees or shrubs, preparing the soil, planting, and maintaining the memorial garden; and this post on planning the garden. The last post in the series (as I said in the first post) "will focus on ways you can incorporate your loved one's memorial garden in healing (and honoring) rituals on those 'special days' (death anniversary, birthday…wedding anniversary…) when commemoration is due.
Calendar: Spring is HERE!
That's another factor in keeping the subject in my thoughts. It's planting time – or will be soon enough. Okay, let's get down to it: how do you begin planning a loved one's memorial garden? As with many things, you start with an idea of what you want to do. That 'seed of intention' came to you last month, when you answered the question in "DIY Memorials: Let's Talk about Memorial Gardens". (You were asked to "think of a deceased friend, family member, or pet you'd like to honor with a memorial garden. Based on their personality and your desires, what would their garden look like?"
Have you done that first step? Here's my memorial garden idea: I'm going to honor three people: the aforementioned Rosemary; my father William, and my ex-husband Matt; along with two dogs, Courage and Gus and a few very memorable cats: Bonsai, Mittens, Mamma Cat, Jazzy, and a feral stray I used to feed, "Agent Dark Booty".
Step 1; "check". Let's move on to step 2: figuring out the location and dimensions of the garden. The size of your memorial garden isn't important.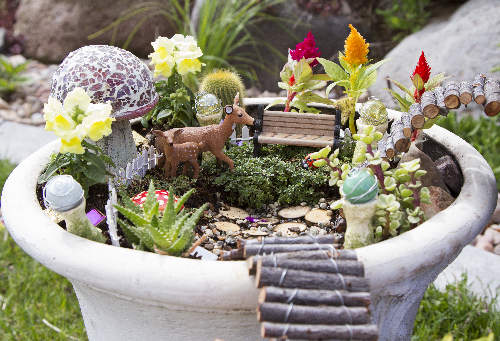 "The garden can be as small as a single tree or perennial plant" notes Leonard Parry, author of the University of Vermont online article "Creating a Memorial Garden". Or, he writes, it could be "as large as an oversized flowerbed or garden with many different flowers, ornamental grasses, and even shrubs and trees, depending on available space."
I have a 10×20 foot space in my front yard, which gets a mixture of sun and shade. I've lived here two years and have learned what grows well. (My biggest issue is gophers. As a Buddhist, of course I can't kill them. What I've learned to do is to use wire gopher baskets to keep them from easily getting to the roots of a plant. They're cagey though; late in the season last year I saw one come up alongside a flower – and then "dive in" to the basket containing the root ball. (Sometimes I have to "settle" for doing 'good works' of compassion by feeding the gophers. I can live with that–as long as they don't get carried away devouring the garden!)
Incorporating Memorial Garden Stones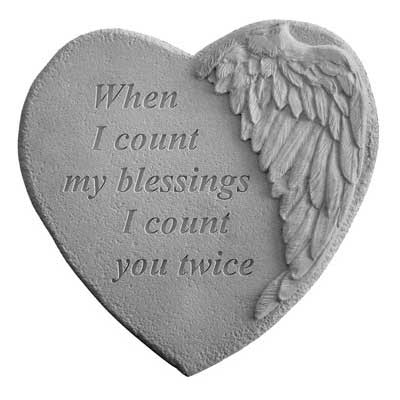 I thought it would be nice to use garden stones in my design. I chose two from the Urn Garden collection: the "Angel Memorial Garden Stone Forever Missed" and the "Angel Memorial Garden Stone In My Heart To Stay ." They match in appearance, and I love the timeless sentiment of each.
There are lots of memorial garden stones to choose from here at Urn Garden; check out our collection to find the perfect addition to your loved one's memorial garden.
Next time we'll be talking about selecting the right plants (flowers, trees, or shrubs) for the garden. Not only is geographical location a factor; other factors to consider have to do with personal preferences (yours or your loved one's). Big decisions ahead!
Your assignment today is to determine the size and location of your memorial garden. (If you don't have a yard in which to create your living tribute, don't be disheartened; I'll be talking about memorial dish gardens and planter box memory gardens in the near future.)
Need More Inspiration?
Pinterest is chock full of memorial garden ideas. Another great resource is Country Living's "16 Free Garden Plans and Plant Lists You Can Use At Home". You might also like to know there are free online garden planning tools, like "7 Free Garden Planners". Until next time then, happy planning!