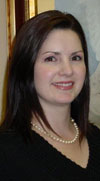 As part of our ongoing "Women in Funeral Service" series, I recently had the pleasure to visit with Deena Pulaski. Deena and her husband, Casmir, just celebrated their two year anniversary at their new funeral home, Lakeview Funeral Home and Crematory in LaPorte, Indiana.
"We always knew that we'd own a funeral home, but imagined that we'd purchase an existing business, and it would be later than sooner." said Deena
Deena was gracious enough to discuss take time out of her busy schedule to discuss some of the challenges of being being the new kid on the block in a small community of long established funeral homes, as well as some of the trends she sees with the families she serves.