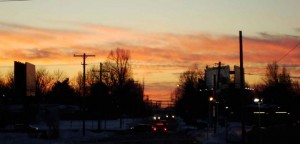 Why is it that on the most bone chilling, record setting cold days that we'll also have the most spectacular sunrises and sunsets? The same is true after a wicked storm. Several years ago, after the devastating tornado that ravaged Joplin, MO the sky was still dark, but the most awe inspiring double rainbow appeared.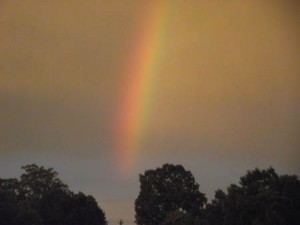 The beauty is there if you seek it out. Maybe the old adage is true, if you rise above the storm you'll find the sunshine. As the days shorten and darkness comes earlier than ever, we're always looking for the light and energy. To focus on the beauty during these dark days.
The sunset cremation urn collection focuses on that theme with connections to fishing, hunting, and landscapes in the traditional metal vase shape, all beautiful works of art in their own way. Most of these cremation urns can be engraved and look great with personalization.
One of the most beautiful is the Lake Tahoe Sunset cremation urn. We were so lucky to connect with a Nevada photographer who let us use this image to create an Urn Garden exclusive. His form of payment was that we had to promise to make a donation to one of our favorite charities, St. Jude's Children's Hospital. We were glad to do it. This gorgeous pink and purple mountain sunset over the lake is breath taking.
Pink and Purple Sunset Cremation Urn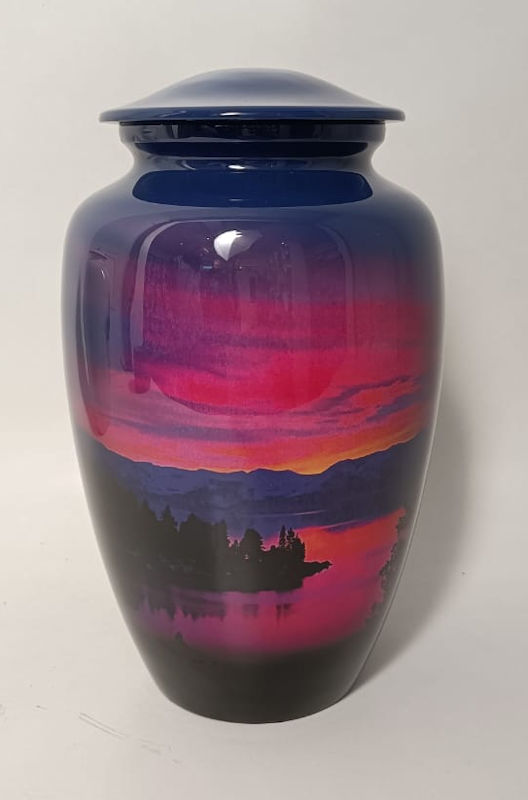 Motorcycle Urn for Ashes
Route 66 Motorcycle Urn is another ride into the sunset dream. This urn is metal and honors the biker or free spirit who loves the open road and wind in the hair.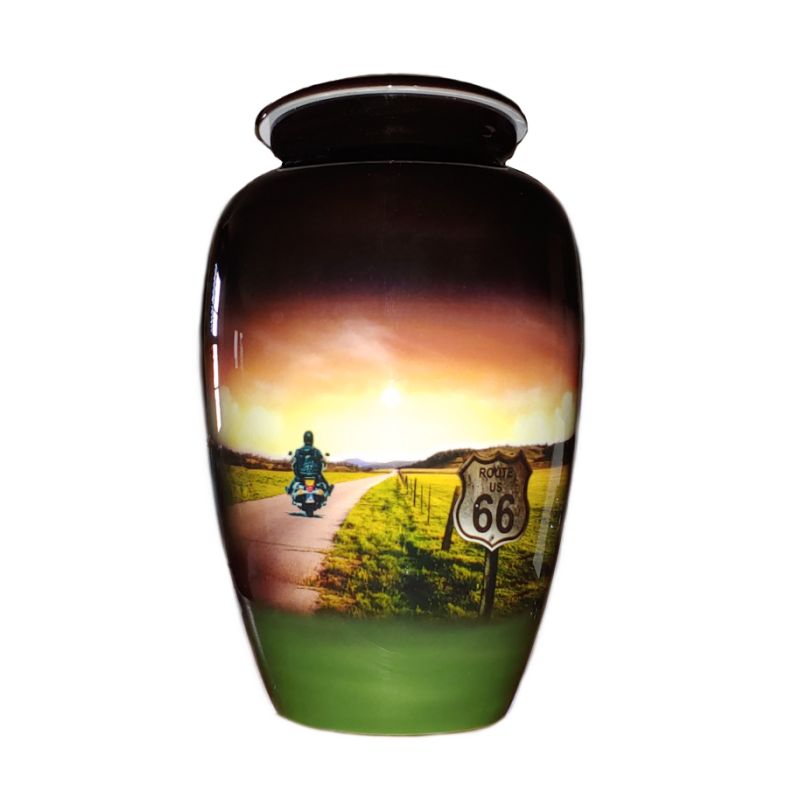 Cremation Urn for Fisherman
Fishing urns pay tribute to those that loved the feisty and fighting nature of sport fishing. There's nothing like being on the water at as the sun is either rising or setting. And this urn comes in both a metal vase shape or wooden box container.
Purple Siesta Key Cremation Urn
There's nothing like a beach sunset and the Purple Siesta Key cremation urn is an attempt to capture that fading light over the ocean. So beautiful and comes in a variety of sizes, from little hearts and keepsakes to a medium size urn for families that want to share or sprinkle some of the ashes.
Finally, if you prefer something more abstract or even just a solid color, there is Sunset Orange Cremation Urn and an Ombre Style that gradually transitions from various shades that you would find in nature. Both equally beautiful and come in adult and small sizes.
Sunsets are such a spiritual metaphor for end of life and the beautiful light right before darkness. There more memorial options that we didn't include here and if you'd like to see more, visit us at urngarden.com.