Selecting a cremation urn can be overwhelming due to the nature of the purchase, as well as the many styles  now available to choose from.  Bronze is always a good choice for an urn that is not only strong and secure but can double as an art sculpture. Many of our families that buy bronze want something that blends in to the decor and doesn't scream URN.
Bronze urns are more expensive than some of the other urns on the market.  The price of copper, molds, and the process involved to pour bronze command a higher price.  This style is not mass produced and is considered a custom order that requires a 2-4 week lead time depending on the finishing details. But the return is lasting beauty and a safe final resting place, certainly worth the wait.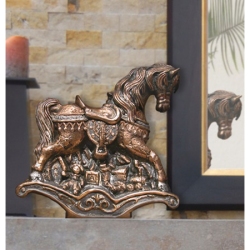 Recent developments in resin compounds have resulted in designer blends that mix bronze and marble dust into the finish that when used in a cold casting technique results in a less expensive product with the look and feel of bronze. An example is our new Lion Sleeps Tonight Urn.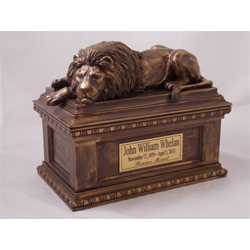 Sculpted from resin blended with bronze metal, this cremation urn has all the rich details of a bronze urn but without the weight of the heavy metal and the price.
Both of the urns featured in this post are made in America.