Personalizing A Cremation Urn

Urn Personalization is defined as the means by which the life and personality of an individual are tastefully and meaningfully represented by the urn or keepsake itself. If burial is chosen, sometimes the cemetery requires that the urn be identified, but regardless if you bury or decide to keep the urn in the home, personalization is a good idea. Identifying the urn with name and dates, can be accomplished through a variety of materials and methods such as material from which the urn is crafted, the shape and color of the urn, words or art engraved on the plate or urn, accessory picture frames containing a favorite photograph and/or appliques that attach to the surface.
LASER ENGRAVING
Our engraving process is uniquely designed to meet the needs of our customers. We have powerful lasers that can be lowered to the necessary depth in order to engrave on the memorials. These are expensive machines equipped with high tech capabilities. These machines have laser pointers in them so that we can locate where on the urn we need to mark and this feature also allows us to line up the artwork so that it is located where it needs to be or where the customer has requested it to be. Our lasers are very powerful and precise.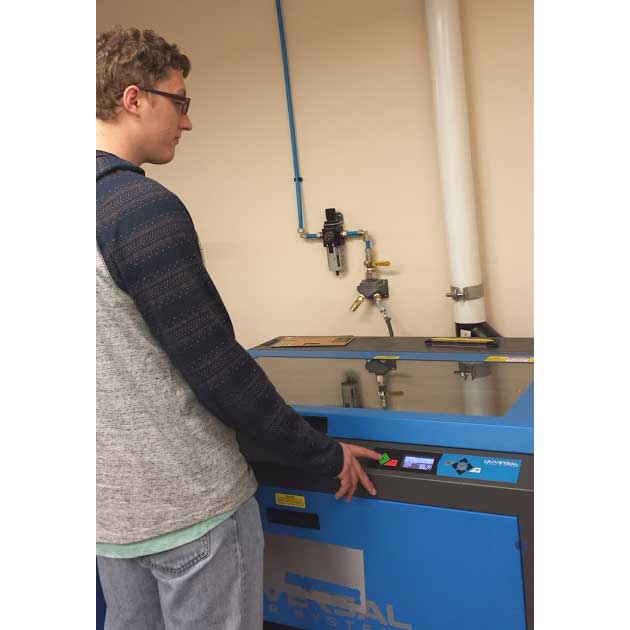 ​
Most engraving systems aren't able to lower down to the depths that ours can. This allows us to have high standards and high results. We have a special software that we use to run with the lasers. You can't run the lasers without it. It takes a lot of training and practice to use these machines and our engraving department is well versed at running these special machines.
Sometimes, depending on how much text is on the given order, we have to make it smaller than we would prefer to. The reason for this is that there is a certain width parameters that we need to stay within in order to get the best results. A typical maximum width would be about 3 inches wide and 1 inch tall, although the height isn't as critical as the width. If we expand the text too far we run the risk of the laser not being able to engrave the pattern.
We have worked hard to get a system in place that reflects our high standards and works well for for our customers to produce a quality memorial. Each urn is different and requires great care and patience when engraving. We take great pride in bringing a sense of peace and comfort for our clients in their times of need.

Engraved orders ship on Tuesdays and Thursdays each week. We feel this gives us the best chance of meeting our customers needs in a timely fashion. We have a multi level system to check the quality and accuracy of our engraved memorials before they are shipped to ensure that no mistakes are made and we have the highest level of quality control.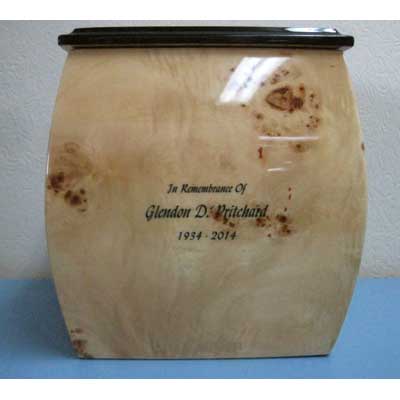 Marble and Cultured Marble-Full size, keepsake and miniature marble urns can be engraved on the top or sides.
Cloisonné- Our engraving department will choose the best location for engraving on all cloisonné urns unless the family has a specific request.
Hardwood- Most hardwood urns can be engraved on the side or top.
Memorial Chests and Stainless Steel- can be engraved on the top or sides.
Brass and Aluminum Alloy- many styles can be engraved on the surface of the vase shaped urns.


Most any urn can be engraved, however, some cannot be. This is why we offer pendants, ovals, and brass tags. These items are very nice and are good supplementary pieces to the non-engravable item. Ceramic urns are not able to engrave because it doesn't turn a different color than the surface of the urn so there is no contrast between engraving and the surface of the urn. It also doesn't get the depth we would like it to reach.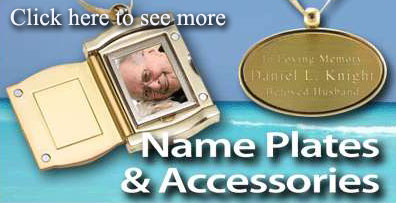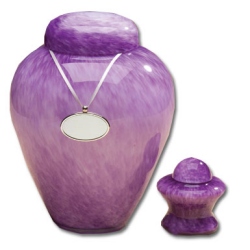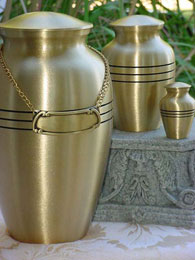 ​
APPLIQUES attach directly to the surface of a memorial urn and are a versatile method of personalization. Crafted of various types of metals, appliques reflect an entire range of religious, social, fraternal, military, sports, and nature themes. Some appliques provide a method of framing a favorite photograph or religious scene in combination with engraved names, dates and lines of sentiment and artwork.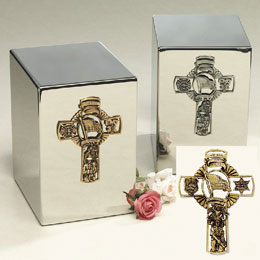 There are many options available to add character or identify the urn you have selected. Feel free to call if you have further questions and we can walk you through the process.
Often, clients are unsure of what to have engraved on the urn for their loved one, here's a few samples of what our customers have chosen to have added on the memorial they've selected.


Always Cherished and Loved
Always My True


Juan Ricardo Puentes Elias
El 14 de Marzo de 1984
Por siempre en mi corazon hermano


Bart A Fiddler
The Observer
We Will Love You
Forever
July 15 2016


Gone from our sight,
but never from our hearts.


Frank Chavez
Loving Father
Never Forgotten


I WASN'T READY TO LET YOU GO Xx
JIM R.I.P.
7JULY 1953--26 NOVEMBER 2014


In Loving Memory
Walter T. Swanner
10-27-1951 -09-06-2016


In Loving Memory
BABYGIRL


Sing Because I'm Free: His Eye
Is on the Sparrow, He Watches Me


In Loving Memory of Mom & Grandma


Cooper Daniel Barton
Our Sweet Angel


Joel and Angelin 1988-2013
Face to Face with Jesus


My Beautiful
DiDi
Sept 2001 - Aug 2016


DEAN RICHARD JORGENSEN
OCT 26, 1948~AUG 29,2016
GONE FISHING ALWAYS IN MY HEART


Lisa Perea My Beloved Wife
I Will Always Love You
6/15/1966 - 8/27/2016


Laura Lea Reichert Buckley
Wife, Mother, Ya Ya
March 18, 1961 July 16, 2016


Rest in Peace
Mom
02-20-1994/ 08-09-2016


You Rescued Me
Bailey



Mary E. Blankley
Beloved Wife, Mother, Grandmother




Together Forever
Luis Menconi
October 13, 1936 to July 28, 2016
Laura Menconi






Millie You will always be
our first baby






Eva Louise Fuqua
2/11/27 - 8/9/16 Always Loved






Rodney Alec Patterson
Patricia Marie Rogers
Gone from our sight,
but never from our hearts.






G. Keith Anderson
Gone fishing in Heaven






My Little Brother Jimmy
July 21, 1956 to July 6, 2016






Love you all. Free at last
Reunited with my Maxine. Steve






JOEY ANTHONY STEPHENS
11/30/93 - 7/14/16
GONE BUT NOT FORGOTTEN






Derek Richard Weiland
Loving son, brother, best friend
4/18/93 - 7/24/16




Donald Chamberlain
February 23, 1942-July 10, 2016
Rest in Peace Daddy






OANH THUY NGUYEN
JUNE 14, 1948 - JULY 15, 2016
FOREVER IN OUR HEARTS






Angel in Heaven
Michael Thomas Courrier
2/15/88 - 4/5/16




David Moreno
June 23, 1944 - July 4, 2016
Our hearts still ache in sadness



Really, anything goes as long as space is available. We did have a gentleman who was buying an urn for his father and wanted to have curse words all over it. We did decline that request.