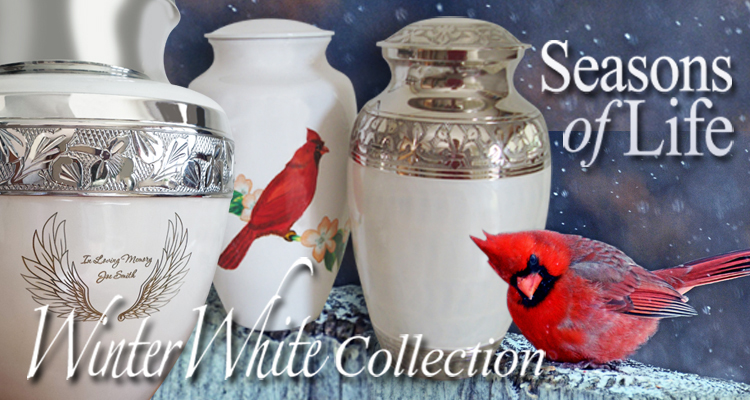 We've been talking about colors that inspire peace and in an earlier post discussed our pink urn collection. Today, we're going to look at Urn Garden's three most-popular white cremation urns. Their popularity rests on how we feel about white: for many of us it represents "new beginnings": white is the color of a blank canvas, ready for the artist's brush. Certainly, the death of a beloved family member brings both an end and a beginning: a white urn can be an expression of the potential for creative transformation.
How We Feel about White 
The natural world is rich with white: flowers, clouds, and the purest white of a winter's snowfall, just to name a few. Poets and authors have written about its pristine beauty for centuries; often comparing it to the sublime, as in 20th century novelist Mary Butt's "White as the thoughts of an angel", or 19th century Quaker poet John Whittier's "White as the wings of prayer".
Other similes, point directly to white in the natural world: 18th century poet Robert Southey described white as being "like the flying cloud at noon". Alfred Lord Tennyson chose not to focus on white in nature; instead, he described white "as utter truth". (Source: White Similes)
Other cultures see white differently. In "Symbolism of Colors and Color Meanings Around the World" author Christina Wang notes the differences: in Western cultures, white symbolizes purity, holiness, new beginnings and cleanliness. "But", she writes, "in China, Korea, and some other Asian countries, white represents death, mourning, and bad luck, and is traditionally worn at funerals." Seems like we have a complex psychological relationship with white.
Our Top-Selling White Cremation Urns
The first is our small white pet urn.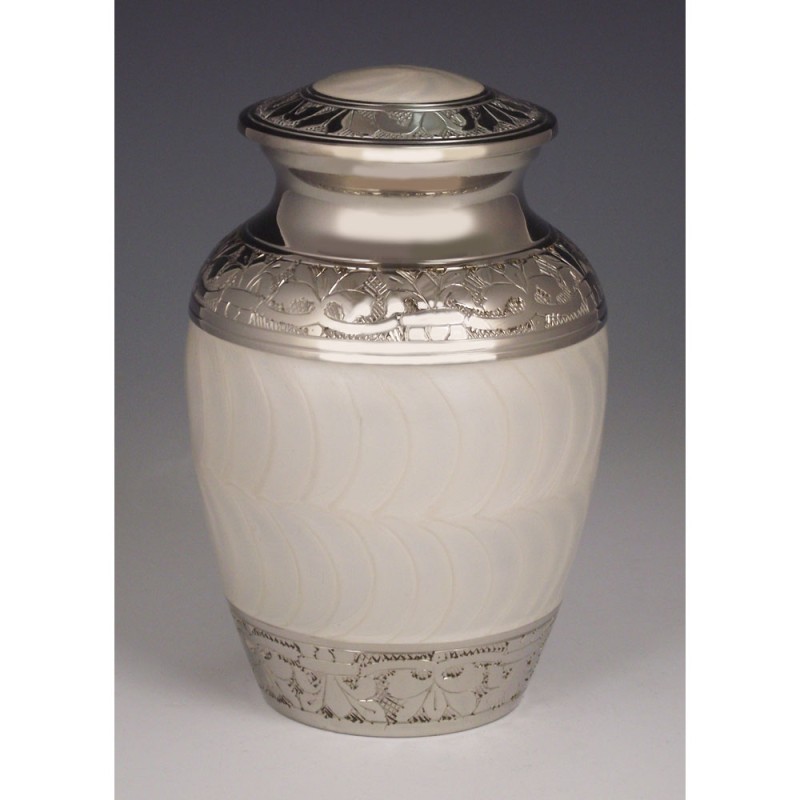 This enameled brass urn is just 5 ¾ inches long, 5 ¼ inches wide and 2 ¾ inches deep. It features beautiful hand-engraved details and a secure threaded lid. It's perfect as a memorial to a pet weighing up to 30 pounds. Naturally, its size also makes it a fine infant memorial as well.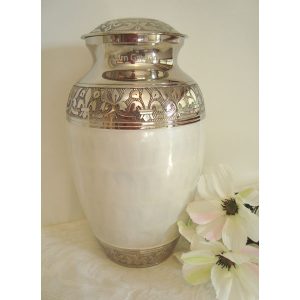 Our White Pearl Adult Cremation Urn matches the smaller size above and is appropriate as a repository for the ashes of an adult. Made of nickel-plated brass, this classically-styled white cremation urn is 11 inches high and highlighted with a frosted white finish complimented by silver hand engraving. For those looking for a white sharing urn, we offer the companion white keepsake urn, the Small White Pearl Cremation Urn, with a 40 cubic centimeter capacity (which makes it ideal for a small portion of ash).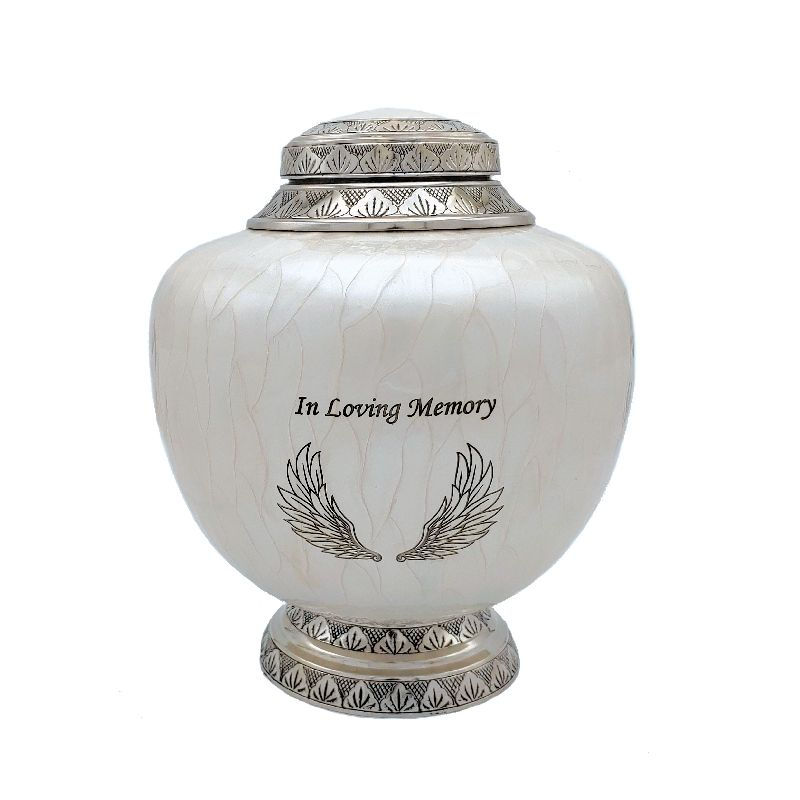 Similar in styling, our Elegant White Cremation Urn is also made of nickel-plated brass. Standing 11 inches tall, it has a capacity of 220 cubic inches, making it suitable for safekeeping the ashes of an adult. People tell us they especially love the elegant lines of this white cremation urn which is reminiscent of classic Greek and Roman urn design. It engraves beautifully and is available in several different graphic styles, ranging from music themes, angel wings, medical and others.
White Cremation Urns Reflect the Purest Hope
When a loved one dies, naturally we are left with deep sadness. But within our grief lies the positive emotion of hope. The color white expresses both. For me, British writer and philosopher C. K. Chesterton, captured the power of white most beautifully when he wrote "White is not a mere absence of colour; it is a shining and affirmative thing, as fierce as red, as definite as black. God paints in many colours; but He never paints so gorgeously, I had almost said so gaudily, as when He paints in white." (Source: Goodreads)