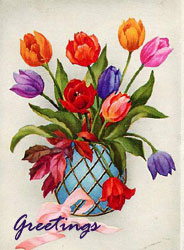 This is the first year we've had tulips and ever the optimist, we didn't heed the meteorologists warning to cover our plants. Well, we got to enjoy them for a little while…..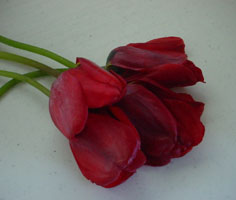 Tulips originated in what was once Persia, where they still grow wild. Their name comes from Turkish and Persian words for turban, tulepan and dulband, after the turban-like shape of the flower. Tulips fill the pages of Persian poetry, literature, and folklore. In today's Iran, this simple flower is pregnant with complex meanings, and a lengthy literary history.
In the Muslim culture, Tulips are symbols of martyrdom. A red tulip is the flower that springs from the earth where innocent blood is shed. The Islamic Republic adopted this symbol early on and is incorporated in the Iranian flag of the Islamic Republic, printed on stamps and posters commemorating the revolution. Tulips are donated to families of martyrs, and, of course, it "springs up" in any cemetery.
Tulips are a beautiful reminder of the bloodshed, but the Iranians also use the powerful symbol of the Fountain of Blood.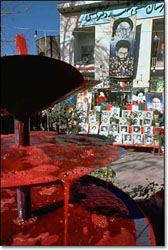 At the epicenter of the area designated to the martyrs is famous Fountain of Blood. This multi-layered cement construction oozes a red liquid that falls in thin ripples from each level. The structure is most disturbing when the fountain is turned off: the cement platforms bring to mind the permanently stained floor of a slaughterhouse.
The fountain of blood is a symbol without an agreed-upon referent. It is erected as a tribute to the legacy and legitimacy of martyrdom, but it represents, more readily, the human cost of the legacy of the Islamic Republic. Mourners and visitors stay clear of it for the most part, now that it's unsightly novelty has worn off.
So while Christians celebrate being washed in the blood of Christ, remember the tulip.