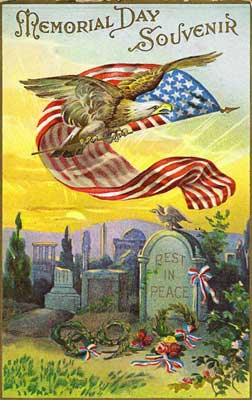 We love to showcase American made artists and the work is even more meaningful when the memorial is for a veteran. Whether it's a flag case to protect the symbol of our freedom, or the urn that will be a final resting place, the superior skill and craftsmanship honor your loved one's legacy.
Recently, we were contacted and commissioned to create a memorial for a gentleman who had fought in the Vietnam campaign. His sister chose a premium bronze sculpture featuring a helmet and boots to honor his service.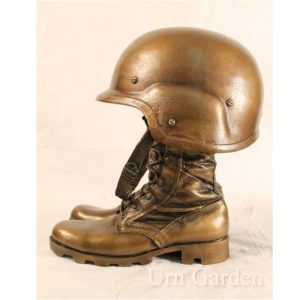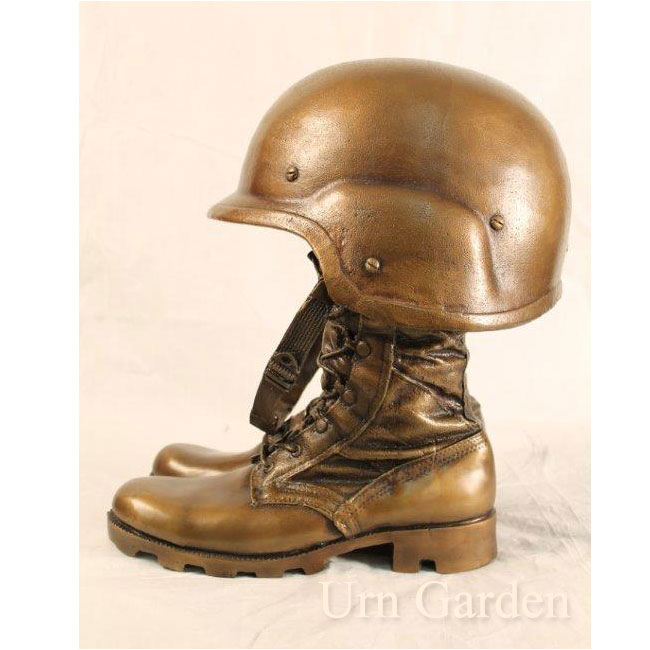 Usually, when families choose the bronze urns, they plan to keep them in the home or place them in an above ground niche at the cemetery. In this case, the urn would be buried in a veterans cemetery in California. Sometimes, the cemeteries require a vault or outer container for burials and we called ahead to confirm their requirements. Turns out, this location had no requirements and even accepted organic burials where the body was simply wrapped in a shroud and placed directly into the earth.
The sad part of this story is that this family was embroiled in an all out war among themselves. The sister was the executor of her brother's estate, and in addition to the infighting, her brother's service medals that she planned to incorporate with the memorial had been stolen. After collaborating on various ideas, we were able to engrave dog tags that were engraved not only with his names and dates, but also had the Great Seal of the United States and listed his accommodations.
Despite the drama, we were able to create a beautiful work of art that honors a war veteran's service. In addition to artistic bronze, we work with craftsman all over the country to create quality funeral vessels in ceramic, gorgeous pottery, and wood boxes that have been harvested from native trees. Our jewelers are creating designer style ash pendants in sterling silver and gold that function as tiny tributes that can be worn close to the heart and we employ stone masons from the Midwest to create outdoor urns and memorial markers.
We are proud to support military service and help create and support American jobs.