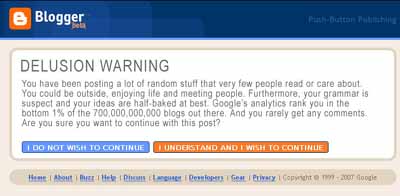 JP's post on the Twitter tool, blew me out of the water and totally validated my thoughts on using the application for my business. Over the past year I've watched the My Space come and go, Facebook is hot, and now Twitter. Meanwhile, I'm still clunking away trying to understand the blog concept.
And frankly folks, nobody wants to read about death and dying every word of every post, and Blawg knows, I can't bear to write about it. Jet Packs' laid it on the line:
And here's where marketers fail: They don't see the revenue stream. And here's what they don't want to hear: There is no revenue stream. Corporate blogs failed for the same reason. No one wants to write a company blog (and even fewer want to read it) that amounts to nothing more than spider food, especially when you have the comments feature disabled.
The blog has worked as spider food, and I'll continue plunking away, trying to blend the life that I currently live: fitness in the morning, funeral in the afternoon.