Wooden Cremation Urns: Find the Ideal Wood Urn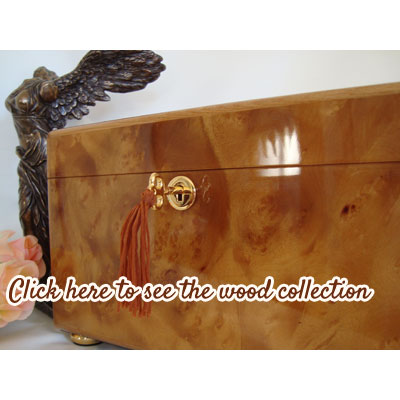 Wood urns are extremely popular because they offer the natural beauty and warmth that is often desired in a memorial urn. Cremation urns and memory chests are available in many different non-endangered wood species and grain patterns. Unlike other cremation urn materials, wooden urns require that the purchaser be aware of several key considerations.
Before you purchase a wooden cremation urn, consider what you will do with the ashes. After the person has been cremated, the ashes are usually returned to the family in a plastic box. This box is suitable for burial or keeping the ashes until you scatter them. This is also an ideal time to determine if multiple family members would like a portion of the remains in a keepsake.
Wood has been used as a burial and urn material for centuries. Due to the history, warmth, and familiarity of this product, wood urns have brought an added sense of comfort. Some of the most popular choices include: walnut, cherry, strong oak, mahogany, and walnut.
If you plan on burying the wooden urn, it is vital to ensure that the wood is protected from the elements. If it is buried in the earth, a wood cremation urn is susceptible to absorbing moisture and weakening. As a result, it is recommended that you use a vault or some other form of sealant if your wishes are for wood.
Urn vaults are used to encase the urn and protect it from the elements. Although urn vaults are not required by many states, some cemeteries may require the use of urn vaults. There are many different types of urn vaults available that offer varying forms and degrees of protection. However, dependant upon whether there will be a burial, or if it's buried in the earth versus in a crematory vault above ground will depend on the type and extent of urn vault that you desire or that is required by your state or cemetery.
Although wood urns require the purchaser to be aware of several factors, the versatility of wood allows for different styles and function. Techniques vary from hand turning to machine crafted. Most wood urns load from the bottom and have a secure panel that slides or screws into place to seal.
Another important factor to keep in mind when selecting an urn is the size. Wood cremation urns come in various sizes. Adult urns have an average 200 cubic inch capacity and usually measure 9-12" tall. Double capacity or companion urns are also available. While smaller sizes for youth, families that plan to share, or pets are available and will usually hold up to an 80 pound individual.
Similar to traditional, full-sized urns are keepsake urns that are used to hold cremated remains, only in a much smaller quantity. In some instances you can find matching full size and keepsake urns which are ideal if you want to carry on a similar theme. Keepsake urns usually vary in height and shape, or come in the form of keepsake jewelry, and will hold a few tablespoons of ashes, lock of hair, dried flowers, sacred burial ground, etc.
With so many styles and colors of wood cremation urns, the easiest way to make a selection is to consider your loved one's favorite color or style. Wood urns can be personalized with engraving. Depending on the style, names and dates can be engraved directly on the surface. For cremation urns that do not have an engraveable surface, or that you do not want to engrave directly onto the surface, brass name plates or urn medallions are available. Medallions drape from the top of the urn and are used to add a personalized touch.
Urn Garden offers a variety of quality, low-cost burial and scattering urns, cremation jewelry, medallions, and memorial stones to fit your style—creating a lasting memorial for the departed. Whatever your style, we are honored to help you make a difficult selection a little easier. For more information on cremation urns or memorials, please call 1-888-876-1467.