Wooden Urns-Learn About the Types Available

Life has been compared to a series of seasons, with change being the most constant and some seasons being richer than others. A wood urn can reflect those change in seasons, as well as showcasing the awesome beauty of nature. With so many species available, each one has it's own personality and characteristics, many are made by American craftsmen.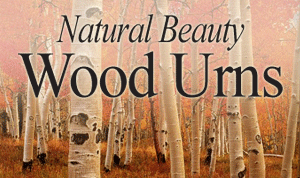 All wood develops a patina with age and colors and grains can range from silky pinks to rich reddish browns with hints of purple.
Some of the wood species you'll find at Urn Garden are:
Cherry: Cherry is an attractive wood in the rose family and is one of the most stable woods found and a favorite of crafters. The tan color of freshly cut cherry sometimes has a hint of pink. However, cherry quickly develops a warm reddish-brown patina. Expect your cherry wood urn to last for generations.
Mahogany: Mahogany is user friendly to work with and turners claim that mahogany holds its shape better than many wood species. Similar to cherry in weight and hardness, it's strength exceeds hard maple and oak. Favored by European royalty for fine furniture and used in old world shipbuilding.
Burl: Burl, or "burrs", are a natural defect that can actually increase the value of timber. Burls are caused by stress to a tree from fungal or insect attack, or small twigs that don't develop properly and are very common in trees. Burl wood is touchy to work with, but the end result is a beautiful one of a kind work of art and one of our favorites.
Oak: This sturdy species was used for generations to create storage barrels and fine furniture. Tannic acids, which protect the wood from pests make oak a good choice for a burial urn. Its hardness, strength, durability, and easy-to-finish nature have made it a favorite of woodworkers.
Walnut: Black walnut was commonly used for barn construction generations ago because of its superior resistance to decay and abundant supply. Today, supply and demand has made walnut one of the most expensive of all domestic species. The chocolate brown color of this wood brings a warm, comfortable look to any room, while its strength and durability ensure that the memorial will last for generations. The hardness of walnut falls between cherry (softer) and oak (harder).
Maple: The varieties of maple are known as sweet, rock, and black maple. Durable and abundant, maple was a popular choice among colonial woodworkers. Many of their projects can now be found in antique shops featuring the rich patina of age. Working with hard maple requires very sharp, well-tuned tools. Maple is so tough, it's the go-to wood for furniture that gets a lot of wear like tool handles, farm equipment, and workbenches.
Rose Wood: Rosewood comes from the tropics and is rich in appearance. In the 1700's wealthy Europeans began importing rosewood to decorate their lavish homes. Due to it's hardness, it's a difficult wood to work and is generally reserved for small projects and accent pieces. We use it to adorn the 3D scenes on our American hardwood collection.
Pine: Christopher Columbus described the pines of the New World as "trees stretching to the stars with leaves that never shed." Early settlers relied on it to build furniture and construct homes. Some of our pine wood urns are highly decorative and might be an alternative choice for the person who simply wants a "pine box".
Many of the styles offered on the website are made in America and use native species like oak, walnut, and pine. Less expensive imports are available from China and India. Most can be personalized with laser engraving or a metal plate.