Stone Funeral Urn: Strength and Beauty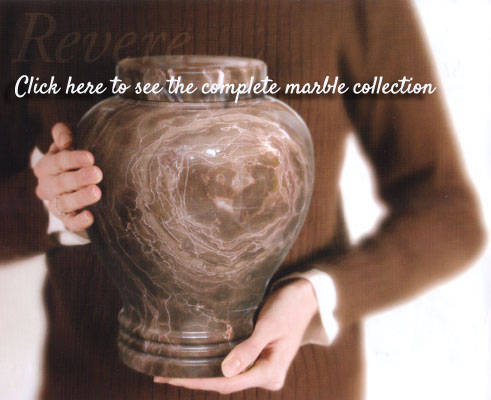 Strength and Beauty, the Benefits of a Stone Urn:
Beauty


Permanence


Elegant


Durability


Dramatic colors


Healing properties of minerals and gemstones.


Prefect for burial or niche placement.
Marble cremation urns have the strength of stone and are highly regarded for their durability. Because of its beauty, permanence, and elegance, natural marble is a popular choice for many families. In addition, marble urns are produced with high-quality genuine marble from some of the finest quarries throughout the world. Marble has been the preferred medium throughout history as Greek and Roman sculptors and architects appreciated the spectrum of beautiful colors and distinct veining patterns which distinguish onyx, alabaster, teak wood, and fossil marbles; thus making this natural material very unique.
Over the years, marble has become a cultural symbol of tradition and refined taste. Ancient legends associate this stone with purity and immortality. As well as being a sturdy and heavy stone, marble urns offer a natural sense of beauty and secure choice as they can load from the top or bottom and have a secure panel or lid that can be sealed with a few beads of any clear household glue. Marble cremation urns come in a variety of colors and styles to provide a secure, final resting place for your loved one, and most styles can be personalized. Furthermore, natural marble is easily maintained by simply dusting with a soft clean cloth.
Natural marble cremation urns come in various sizes. Adult urns have an average 200 cubic inch capacity and usually measure 9-12" tall while smaller sizes for families of youth, families that plan to share, or pets are available in 6-7" sizes and will usually hold up to an 80 pound individual. Marble urns can also typically be personalized with laser engraving directly on the surface including names, dates, and various themes. For cremation urns that do not have an engravable surface, urn medallions are available. Medallions hang around the neck of the urn and had a personalized touch to the urn.