Marble Cremation Urns: Find out if they are right for you.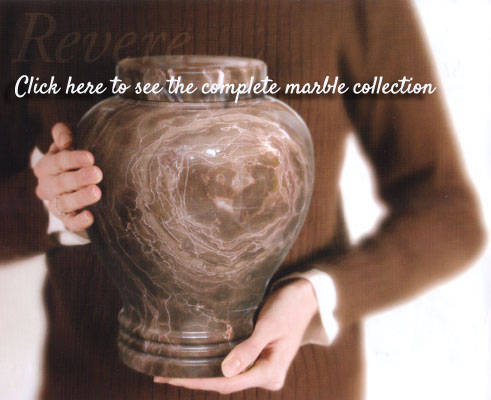 Celebrating the life of a loved one is a very personal and emotional experience. With all of the cremation choices, selecting an urn can be a difficult choice in the midst of a stressful time. However, selecting the correct urn is essential in creating a meaningful and significant memorial for your family.When choosing an urn, the type of service that will be held and final placement of your loved one play a factor in the type of urn you select. Many cemeteries have options that range from ground burials to niches in mausoleums and columbarium's. However, it is not necessary that you go with one of these routes.
While there is no standard funeral or cremation service, there is also no standard for the type of urn you select. Some people prefer to keep the cremation urn as a visible part of their life. In this case, a more decorative urn or keepsake urn is more appropriate because it can be customized to honor the interests and passions of a past life. Other people prefer to take this concept to another level as a dual purpose urn that also functions as a lamp or piece of artwork.

Marble cremation urns have the strength of stone and are highly regarded for their strength and durability. Because of its beauty, permanence, and elegance, natural marble is a popular choice for many families. In addition, marble urns are produced with high-quality genuine marble from some of the finest quarries throughout the world. Greek and Roman sculptors and architects preferred marble for its beautiful spectrum of dramatic colors and veining patterns which distinguish onyx, alabaster, teak wood and fossil marbles; thus making this natural material very unique.
Over the years, marble has become a cultural symbol of tradition and refined taste. In folklore, marble was associated with purity and immortality. As well as being very sturdy, marble urns offer a natural sense of beauty and secure choice as they can load from the top or bottom and have a secure panel or lid that can be sealed with a few beads of any clear household glue.
Marble cremation urns come in a variety of colors and styles to provide a secure, final resting place for your loved one, and most styles can be personalized. Furthermore, natural marble urns are easily maintained by simply dusting with a soft clean cloth.
Natural marble cremation urns come in various sizes. Adult urns have an average 200 cubic inch capacity and usually measure 9-12" tall while smaller sizes for families of youth, families that plan to share, or pets are available in 6-7" sizes and will usually hold up to an 80 pound individual.
Keepsake cremation urns are usually about three inches in height and will hold a few tablespoons of ashes, lock of hair, dried flowers, sacred burial ground, etc. Families can order keepsake urns for the whole family if desired and family packs are offered by some cremation urn companies for this purpose.
Marble urns can also typically be personalized with laser engraving directly on the surface including names, dates, and various themes.
For cremation urns that do not have an engravable surface, urn medallions are available. Medallions hang around the neck of the urn and had a personalized touch to the urn.
As funeral and burial expenses have continued to rise, cremation is becoming more common. However, despite this trend, it is important to choose the funeral and preservation method that is most appropriate for your family and what you feel your loved one would have desired. Cremation urn companies are available to aid you in the difficult time. By understanding all of the urn options, this process can be used to create a lasting memory that can honor your loved one.
Urn Garden offers a variety of quality, low-cost burial and scattering urns, cremation keepsake jewelry, engraved medallions, and memorial stones to fit your style—creating a lasting tribute for the departed. Whatever your style, Urn Garden is honored to help you make a difficult selection a little easier. For more information on cremation urns or memorials, please call 1-888-876-1467 for personal assistance.