Everything You Need to Know About Engraving a Memorial

We make it super easy to personalize and create the perfect memorial. You can easily upload images when you buy on our site or you can email or text images.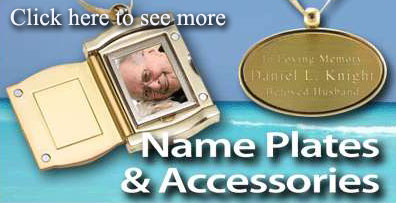 Our skilled engravers will create a special tribute, in order to get the best results, here's what we need from you:
Quality Is Key
Pick the best-quality image possible. Close-ups and images with bright colors will produce the best results. What you see is what you get! Your image will be reproduced as it appears. Just know, we may have to crop the image for size to properly format for the item you ordered.
SIZE MATTERS
Check your settings!
Recommended: 2000 pixels and 300 dpi . This is important! Many of the images pulled from the web are 72 dpi. If your image is below the minimum resolution/size requirements, don't try to enlarge the image your editing software or you'll end up with a distorted, poor quality image. You'll need to rescan the image or use a higher-quality image.
Scanned photographs need to have a resolution of 300 dpi or more. When taking digital images, set your camera at the highest possible resolution. You can always adjust the resolution later. Low-resolution images cannot be increased without loss of image quality.
We accept images with the following extensions: .jpg (preferred), .bmp, and .gif (GIF images do not reproduce as well because of color compression.)
Files must be 20MB or smaller. The upload time will depend on the file size and your Internet connection speed. Please be patient when uploading a large image. It will be worth the wait!
Remember, you are creating something beautiful!
More questions? Here's a list of FAQ regarding engraving and personalization that might help:
Q: Can you remove a background, a person, object, or fix a scratch on a photo?
A: Possibly. Our team can assess the situation and advise you of your options. Depending on the complexity, there will be an additional charge. For more information please email your photo to info@urngarden.com and describe your requests in the body of your email. We can consult regarding your editing needs before the order is placed.
Q: How long does the process take? When will I get my order?
A: Please allow 24-48 hours to process your custom order. We usually ship engraved orders on Wed. and Fridays and ship most small items Priority 2 Day through the US Postal Service, larger items ship Fed Ex. Orders are usually received by our customers within 7-10 days, sometimes faster.
Q: How large can you engrave?
A: 18"x24" with an 11" thickness. We do not engrave directly on items that are over 25 lbs.
Q. I want to buy an urn from you, can it be engraved?
A. Check out this guide for personalizing an urn.

We use both laser and rotary engraving to engrave on metals like pewter, copper, steel, brass, glass, acrylic, plastic, marble and stone, leather, wood, and more! We want to help you create something of beauty. Therefore, at urngarden.com, we reserve the right to refuse reproduction of prohibited content. Prohibited content is defined as text or images that could be deemed offensive in nature. Or:
1. Contains copyrighted material used without written permission of the owner.
2. Is abusive, deceptive, obscene or offensive, defamatory, slanderous, or inappropriate.
3. Violates or encroaches on the rights of others.
4. Advocates illegal activity.
Questions? Contact us.