Egyptian Urns: Timeless Style

The timeless style and mystery of ancient Egyptian culture has become a popular choice for families seeking unique funeral urns. Rich symbolism and ancient signs of protection transcend into modern culture as cremation burial urns.
Egyptians revered cats, and archeologists have discovered the mummified remains of cats in the tombs of dead pharaohs. Replicas of canopic jars found in the Valley of the Kings have been updated to use as pet urns complete with hieroglyphics.
The Bastet urn is a popular choice for Egyptian cat urns.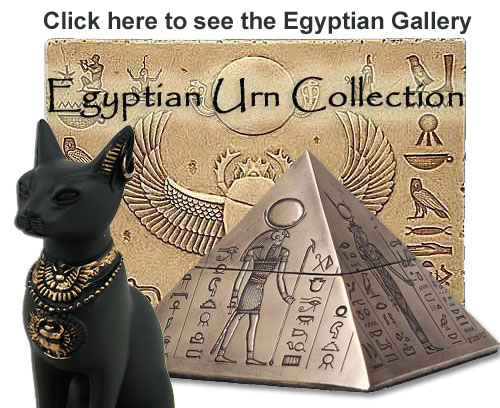 The protective image of Bastet can be found on Egyptian tombs portrayed with the head of a domestic cat. Bastet was a goddess and was considered the personification of the soul of Isis. Bastet seemed to have two sides to her personality, docile and aggressive. Her gentle side was displayed in her duties as a protector of the home and pregnant women. Her aggressive and vicious nature was exposed in the accounts of battles in which Bastet slaughtered her victims in order to protect the pharaoh. Festivals for Bastet were celebrated in April and May.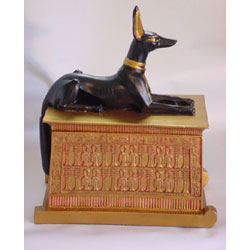 Egyptian urns in the image of the ancient god, Anubis, Protector of the Dead have become a popular style for dog urns. Prayers to Anubis are found carved on the most ancient tombs in Egypt. He had many duties including watching over the mummification process to ensure that all is done properly. He conducts the souls through the underworld, testing their knowledge of the gods and their faith, and he places their heart on the Scales of Justice.
Most Anubis and Bastet canopic jar urns are approximately 90 cubic inches. On the other hand, keepsake urns in the style of the Great Sphinx and replicas of the Ark of the Covenant are also available which are ideal for families that desire to share cremated remains or have a smaller pet that has passed on. A good rule to keep in mind when trying to determine urn size is one cubic inch is equal to one pound of body weight.
Horus was god of the sky and one of the most important symbols of Egyptian power, with a man's body and a falcon's head. Horus represented resurrection and eternal life.
Egyptian culture and style is has been a significant part of history and continues to be reflected in cremation burial urns. People appreciate the timeless style and mysteries associated with ancient Egyptian culture and incorporate some of the same rich meanings of the times to protect their loved one that passed on.
Urn Garden offers a variety of quality, low-cost burial and scattering urns, cremation keepsakes, and urn jewelry.
personalized urn medallions

memorial stones to fit your style creating a lasting memorial for the departed.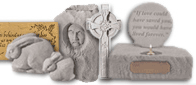 Whatever your style, Urn Garden is honored to help you make a difficult selection a little easier.