Crystal and Glass Cremation Urns: What Makes Them Special

Earth, Wind and Fire. Glass and crystal cremation urns have all the elements of nature and can easily stand on their own as a work of art. This is perhaps why these two materials are extremely popular. By understanding how crystal and glass cremation urns differ from other types of urn materials will simplify this decision making process.
Glass cremation urns can be made by hand, cut with a diamond saw, or engraved with copper wheels embedded with abrasives. Hand blown glass requires a great deal of skill from the glass blower as each piece is individually crafted. Handcrafted glass cremation urns can be rich in color and detail with a variety of colors and patterns; thus, making it a one-of-a-kind piece that can serve as a life-long tribute and meaningful memorial to a life well-lived.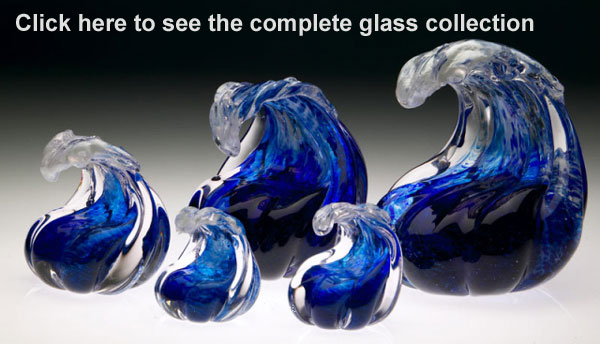 Unlike other urn materials, glass urns can be personalized to fit the style and individuality of the life that was lost. Whether you prefer a globe-shaped glass urn or something more oblong, thick for durability or delicate for a more refined piece of art, glass urns are extremely versatile. Chemical elements can also be added during the glass blowing process that can alter the color of the urn. Creativity is truly the key to making a glass urn one that symbolizes the life and interests of your loved one in addition to serving as a meaningful memorial for the deceased.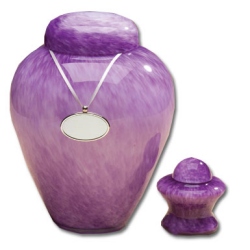 Glass cremation urns are typically high-quality and offer the flexibility that people desire when choosing a cremation urn. In addition, glass urns offer an affordable solution that allows people to have an elegant and long-lasting memory to honor their lost loved one.
Crystal urns are typically more expensive than glass urns. However, this does not necessarily mean that they are always better. Choosing an urn is really all about fitting the style and personality of your loved one.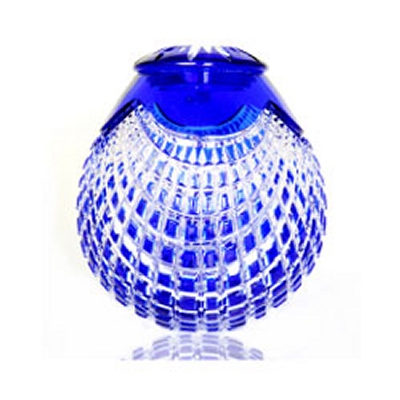 Fine lead crystal cremation urns are 24% lead crystal and perfect for families that plan to share or scatter portions and come with a white satin bag to hold the cremains, creating an opaque glow to highlight the beautiful cut designs in the crystal. These are the finest lead crystal urns available and serve as an exceptional vessel to celebrate the life of your loved one in a unique and meaningful way. Similar to glass urns, the crystal is individually hand cut and demonstrate a fine degree of quality.
Glass and crystal cremation urns come in various sizes. Adult urns have an average 200 cubic inch capacity and usually measure 9-12" tall and are available in double capacity, often referred to as companion urns, designed to hold two adults. In addition, smaller sizes are available for families of youth, families that plan to share, or pets and are offered in 6-7" sizes and will usually hold up to an 80 pound individual.
Many people like the idea of glass or crystal cremation urns because the material is rich and beautiful yet fragile. This symbolizes the fact that life is truly fragile, but the memories and life experiences that were spent with their friends and loved one's lives on with this beautiful art form. When choosing a cremation urn, consider your loved one and what would best represent and honor them.