Cremation Jewelry - Care and Cleaning of Gold Pendants

Our gold cremation jewelry is what's known in the industry as vermeil, (pronounced ver-may). Vermeil is a plating process that applies a layer of 14K gold over sterling silver. Over time and depending on the amount of wear, the gold layer, can eventually wear away. This natural process is not eligible for warranty replacement. Your gold-plated pendants and bracelets can be re-dipped by a jeweler.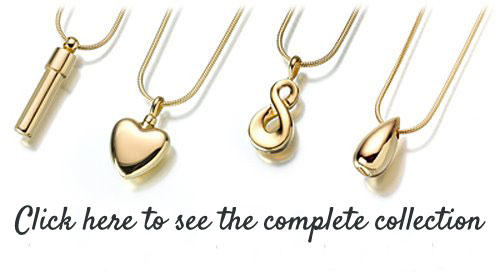 To clean gold cremation jewelry, use a damp cotton cloth and lightly wipe the pendant. This helps to eliminate any dirt or dust from accumulating on the surface and protects the gold layer. Polishing cream should not be used on gold-plated items.
Urn jewelry should be removed when showering, swimming, and sleeping. Contact with certain skin types can cause discoloration on the pendant. Restore shine with a soft cotton cloth.
Here is how to polish your cremation jewelry:
Light tarnish on gold can be removed by using soapy water and a soft bristle brush. A soft toothbrush and some dishwashing liquid also work well.
Dip the toothbrush in the water and get the bristles into all of the crevices.
Rinse jewelry in warm water until the water runs clear.
After a gentle scrub, buff jewelry dry with a soft non-abrasive, lint-free cloth to make it shine. Specially treated cloths or other cleaning jewelry cleaning products can be used.
If your gold jewelry does not contain gemstones you can clean it with an ultrasonic cleaning machine.
Consult your jeweler for problems with heavy tarnish.