Creating a Memorial Garden

The healing force of nature can help release feelings of grief by creating a garden of memory as a living tribute to your lost loved one. Many people seek refuge in gardening in times of sorrow. Gardening connects us directly with the cycle of life. Plants need loving care as they grow and mature. They experience vigorous periods of growth and bloom, punctuated by quiet periods of resting and renewing.
The garden can reflect your healing and the beauty of your relationship with your loved one as it matures and changes through the seasons.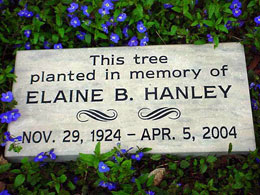 Dedicating a space in your yard or on your patio to plant a perennial garden allows you to memorialize this special person through the loving language of flowers and plants and welcome the essence of life back into your world. Setting up a birdbath, birdhouse or feeder and welcoming butterflies with colorful blooms are further invitations to life by sharing yourself and giving back to nature.
You don't have to have a large space to create a living memorial. For those without the room or the ability to create an elaborate, in-ground garden, a patio or indoor pot can be planted instead. A simple potted planting can be just as meaningful as more complex garden. Bend a wire coat hanger into the shape of a heart and secure in potting soil. Plant a climbing vine that you can train to grow up the wire. Rosemary symbolizes remembrance, English Ivy friendship are easy plants to train into a topiary form.
Sometimes planting a tree in your loved ones memory can give the family a place to return to honor the loved one. Tree plantings can be marked with a memorial stone personalized with artwork and the departed name and dates.
Memorial stones and statuary can represent your loved ones' personality. Garden stones, garden benches that can be used indoors or out are all loving touches in your sacred space. A tribute garden is an intensely personal experience, and a place to express what is in your heart.