Cloisonné Cremation Urns: History and Use in Modern Times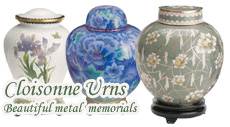 Cloisonné is an ancient art form invented by the French and perfected by the Chinese, and predates stained glass art. Cloisonné is a statement of strength and beauty, constructed from brass, copper and colored enamel, cloisonné is handcrafted and fired in a kiln and gilded. As a result of this painstaking process, every cloisonné piece is a beautiful, durable and unique work of art.
The original cloisonné were made of bronze and produced during the Xuande period of the Ming Dynasty. During that period, craftsmen found a navy blue glaze which was viewed as a color signifying elegance.
By the 15th Century, cloisonné had become a well established art form and was becoming widely popular for a variety of applications. Today, intricate designs are created on cloisonné urns by inlaying enamel at the base between the copper wire mesh. The colors are created as the different minerals merge during the firing process to create the vibrant colors. The final step in creating a cloisonné cremation urn is polishing it to enhance the shine. This clear protective coat makes it easy to maintain by simply dusting the cremation urn with a soft clean cloth.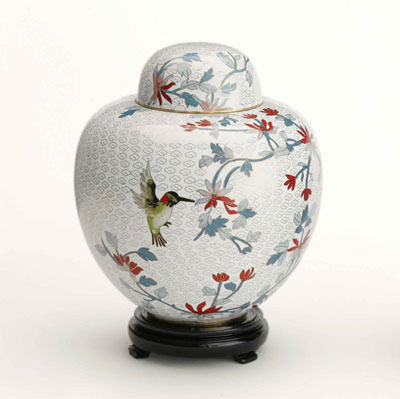 Cloisonné urns serve as a highly decorative memorial to the deceased. In addition, the cloisonné urn provides a dual purpose, holding the deceased ashes, and serving as an exquisite piece of art. The unique, high-quality appearance of a cloisonné urn is guaranteed to honor the passed ones life and offer a beautiful reminder of what they offered this world.
Cloisonné cremation urns come in various sizes. Adult urns have an average 200 cubic inch capacity and usually measure 9-12" tall, while double capacity or companion urns are also available. Smaller sizes are also available for families of youth, families that plan to share, or pets and are accessible in 6-7" sizes and will usually hold up to an 80 pound individual.
Keepsake cloisonné urns usually are about three inches in height and will hold a few tablespoons of ashes, lock of hair, dried flowers, sacred burial ground, etc. Families can order keepsake urns for the whole family if desired and select urn company's offer family packs for this purpose.
With so many styles and colors in the cloisonné line, the easiest way to make a selection is to consider your loved one's favorite color or style. Some of the more popular styles include simple classics, floral, birds, dolphins, and butterfly themes. Urns can be personalized with laser engraving; names and dates can be engraved directly on the surface. Although most Cloisonné styles are engravable, you may want to call first to make sure the provider offers engraving directly onto the surface.
By understanding the history of cloisonné and the impact that it has had on creating and maintaining memories of the departed, one can understand the significance that this functional piece of art has had for centuries.
Urn Garden offers a variety of quality, low-cost burial and scattering urns, cremation jewelry, engraved medallions, and memorial stones to fit your style—creating a lasting memorial for the departed. Whatever your style, we're honored to help you make a difficult selection a little easier. For more information on cremation urns or memorials, please feel free to call 1-888-876-1467 for personal assistance.