Ceramic Cremation Urns: Works of Art for Home or Burial

When you choose a ceramic cremation urn, you are choosing a unique work of art. The craft of pottery and ceramic making is an ancient skill dating back literally thousands of years. The beauty of a ceramic or pottery urn is its versatility, whether you plan to display it in the home or plan to reunite the ashes with the earth in a traditional burial this style can be adapted for either use.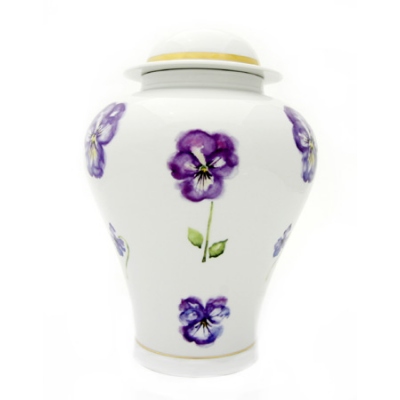 Many ceramic cremation urns are available in a classical vase shape, which will blend right into your other home decorations. They can be harmonious with their surroundings, while paying tribute to your loved one in an elegant and thoughtful way. You can also find a ceramic cremation urn in a smaller size, such as those used for pet urns or keepsake urns. These may be decorated and shaped in more unique sculptures, to represent a hobby or simply stand alone as a piece of unique, hand-thrown art. Dragon flies, feathers, frogs, and other natural objects are popular subjects for pottery art forms.

The urn pictured here is created by an American artist and uses actual leaves and berries pressed into the clay to create the finish.
For families that like the look of pottery in the home, but are concerned about using it as an urn for ashes due to accidental breakage, remember that the ashes are usually bagged within the container and the lid can be sealed with either glue or quake wax for safe storage. The nice thing about using wax to seal the urn is that it not only secures the lid, but allows for re-entry in the event that the ashes will be scattered at a later date. For families that have small children or cats, consider placing the urn in an area that is least likely to be disturbed. Wax can also be used on the bottom or base of the urn to anchor it to the shelf or mantle for more stability. Many museums and customers in earthquake prone areas use this method to stabilize their valuable items to minimize breakage.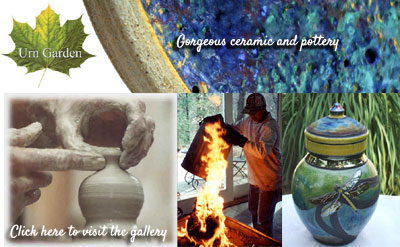 The nice thing about ceramic or pottery is that they are truly one of a kind masterpieces, not some mass produced, made in China cheap funeral goods. The Urn Garden artists create memorials that are made with care and compassion that will honor and respect the memory of your loved one.