Care and Cleaning of Silver Cremation Urn Jewelry

Urn Garden has a 100% satisfaction guarantee policy on all of our cremation jewelry. To maintain our lifetime guarantee, all urn pendants must be sealed with glue. We inspect and individually wrap each piece of jewelry to ensure its safe arrival. As with all hand-crafted merchandise, the finishes on our jewelry may vary a bit from piece to piece. Some pendants have a highly polished finish which may scratch easily, so please handle with care. We recommend a 24-hour waiting period after filling and sealing before the pendant or bracelet is worn. This is to achieve full bond strength to keep the ashes secure. To maintain the bond, jewelry should not be immersed in water.
Silver Cremation Jewelry–the urn pendant's shine can be restored with silver cleaner and a cotton cloth to avoid scratching. Fine scratches that can appear from wear can be buffed out by a professional jeweler. Silver is one of the softer of the precious metals. Keep that in mind when determining what occasion to wear the piece. For instance, if you have an active job or are working around harsh chemicals, we would not recommend wearing your ring or bracelet. We don't recommend showering, sleeping, swimming, or working out while wearing cremation jewelry.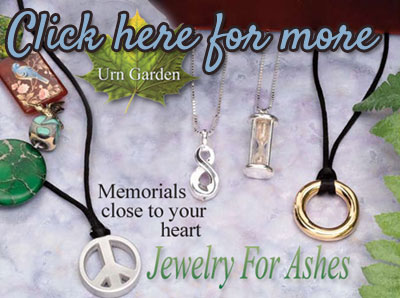 ​
Gold Plated Urn Pendants – Gold vermeil is a high grade of plating over sterling silver. Some skin types may cause discoloring of the pendant over time. Shine can be restored with water on a soft cotton polish cloth to avoid scratching. Avoid polishing cream as gold plating can wear off.
Titanium Urn Jewelry – Titanium can be cleaned with a soft cloth dampened with warm soapy water. Dry thoroughly before wearing.
Stainless Steel Jewelry for Ashes – Shine can be restored as needed with polish cream and a cotton cloth to avoid scratching.
Brass, Pewter, Bronze Urn Pendants – Some skin types may react to certain metals. If tarnishing occurs, a soft cotton polish cloth and cream will restore shine.