Biodegradable and Green Burial Cremation Urns: Making an Impact

Ashes to Ashes Dust to Dust. Many families are choosing to take a very natural approach to cremation by going green. Biodegradable Urns are designed with environmentally conscious families in mind, whether they choose earth burial, water burial, or scattering ashes over a sacred space, urns are available in several different styles and materials that will naturally break down when buried or placed in water.
Many of our environmentally sound urns are produced using an old world "rough-pulping" technique that transforms recycled paper into beautiful biodegradable urns. The Shell series is designed for water burial, is hand-painted and engineered to float for a few minutes before descending gracefully under water.
Unlike traditional urns, "green" cremation urns are made out of a non-toxic material that will fully decompose over a short period of time. As the urn breaks down over time, minerals and nutrients are absorbed back into the Earth in a non-intrusive process. Many people feel that the use of a biodegradable urn offers them a way to commune with nature as they make a positive contribution back to the natural circle of life.
Since protecting the environment has become an increasing concern for many, biodegradable urns are able to offer the solution that many people are looking for. Green burial containers offer a secure and dignified method of scattering cremated remains while remaining environmentally friendly.
Biodegradable cremation urns also preserve land space. Those individuals that prefer scattering can also benefit from green cremation urns as it aids in temporarily containing the cremated remains; thus, preventing the ashes from blowing all over at the time of dispersion.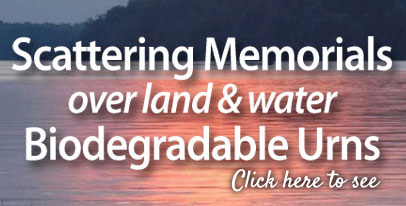 Sea burials are also of increasing popularity. With sea burials it is essential to use a biodegradable cremation urn to ensure that the sea creatures do not experience disruption in their natural habitat and that the sea does not get overcrowded in the same way that the ground has become overly used in traditional burials.
Biodegradable cremation urns come in various sizes, adult containers have an average 200 cubic inch capacity and sometimes are over sized for placement of notes and mementos. Some styles are available in double capacity for two adults, also known as Companion Urns.Smaller sizes for families for youth , families that plan to share, or for pets are available in 6-7" sizes and will usually hold up to an 80 pound individual.
Keepsake urns are a good choice for families that plan to scatter and want to keep a small portion of ashes. Keepsake urns usually are about three inches in height and will hold a few tablespoons of ashes, lock of hair, dried flowers, sacred burial ground, etc. Families can order keepsake urns for the whole family if desired and Urn Garden offers family packs for this purpose.

Another option for families that plan to scatter is memorial garden stones or tree dedication markers. Some families are troubled by not having a sacred place to honor and pay tribute to the loved one after the ceremony. This can be remedied by planting a tree, or dedicating a small spot in the garden and planting with flowers or plants that have special meaning to remember the loved one.
Whatever your style, Urn Garden is honored to help you make a difficult selection a little easier. Thank you for letting us serve you.