About Keepsake Urns

If you are shopping for funeral merchandise, you've probably seen the term "keepsake urns". This is simply a mini version of the full size containers, designed to store a small amount of ashes or lock of hair. So many times, customers are make their selection based on price alone, and when they receive the purchase, discover that the urn is too small for their needs. So when you see that description, know that it means that the urn is small scale.
The good news is that this may be exactly what you are looking for.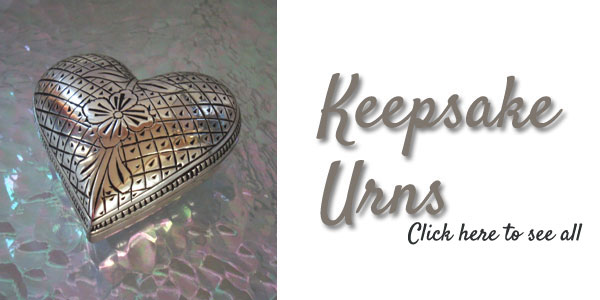 We've been so fortunate to serve families from all over the globe during a very difficult time in their lives. These families have taught us so much about the style of cremation urns and services that they have selected for their loved ones.
Often families will select a cremation urn and inter the remains at a later date. Another popular choice is scattering most of the ashes and purchasing keepsake urns for family members that may want to save small portions of the ashes, lock of hair, sacred burial ground, or other loving mementos. The keepsake urns can also be used to store a small amount of ash that may be scattered later.
One of our clients selected several small brass keepsake urns for family members and a biodegradable urn suitable for water burial. His father had homes on both coasts and loved the ocean, so most of his ashes would be interred at sea on the west coast, while the children would take the remaining keepsake portions to the east coast and spread at favorite vacation spots, according to their father's wishes.
Another client purchased a brass mini urn to take skydiving in Chili, honoring her loved ones final request. One widow selected Celtic cross urns for family members. Her husband requested that he be sprinkled in the river at his favorite fishing hole, a wreath was floated downstream following the scattering.
Cremation jewelry is also a popular option, with so many styles available, families can have a beautiful discreet fine jewelry cremation urn necklace in silver or gold finishes. Mourning jewelry dates back to the Victorian era and today's styles are contemporary and designed to hold a small amount of ashes or other loving keepsake.
With so many options available, maybe you don't want to preserve a small portion of ashes and would rather create a living memorial.Tree plantings are another way to honor a loved ones memory and give family members a place to visit and remember. Garden memorial stones or a personalized memorial stone for a tree dedication or sacred spot can help in the healing for families that scatter, spread or bury the ashes and need a special place to honor the loved one.

Urn Garden offers a variety of quality, low-cost burial and scattering urns , cremation keepsake jewelry, urn medallions, and garden memorial stones to fit your style creating a lasting memorial for the departed.