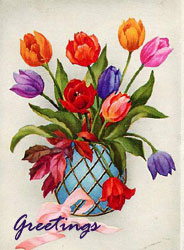 It's always the quiet ones…..
Amherst, NY
For hundreds of local families, funeral director Michael A. Pellegrino, 45, was the handsome man in the conservative dark suit who expertly guided them through one of life's most trying moments. But on Thursday, April 5th, Pellegrino entered the Seneca Niagara Casino, walked directly to the blackjack dealer's table, pulled out a 9 mm handgun and fatally shot himself in the chest.
Pellegrino, left behind no known note before he killed himself, so the true reason for his suicide may never be known. But he left plenty of signs that his seemingly perfect life as a rising star in the local funeral industry was coming unraveled.
Friends say he was heavily in debt from the costly legal battle he and his wife, Constance, fought to build an expensive new funeral home on Maple Road in Amherst. His wife filed for divorce last October, according to court records, a move apparently prompted by her learning of his affair with the blackjack dealer.
And Pellegrino was a heavy gambler at the casino's blackjack tables, one who lost so much money he was given the casino's highest perk: free use of one of the largest suites in the casino's new four-star hotel.
He was one of the big spenders," said a source familiar with the casino's policy for high rollers. A big loser. When you get comped to a center suite, you're not talking about a bit player.
A casino spokesman declined to discuss Pellegrino's gambling losses, but the source said only those who lose $10,000 to $20,000 at a time at the tables enjoy that kind of perk.
Pellegrino had no way of knowing it, but as he entered the casino, television crews were setting up outside for an unrelated news conference about a casino promotion. It guaranteed almost instant coverage of the shooting.
Married for 21 years and the father of three, he was described by colleagues and friends as "a gentleman," "always upbeat" and a "well respected businessman". He was a very balanced individual, who did everything he could to offer the finest in funeral services," said Patrick C. Reddington, who owns Reddington Funeral Home in South Buffalo. I was completely shocked when I heard of this incident.
Today's tip for better living: Have a bowl of peanut butter Cap'n Crunch.