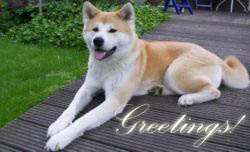 Pet owners who favor the larger breeds will often choose our hand-painted ceramic Wolf Urn. Earlier this week, an Akita owner requested this urn style.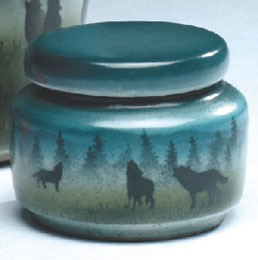 The problem? The Wolf urn only comes in two sizes, a large 200 cubic inch and a small keepsake size. We offer a similar style pet urn featuring various breeds with a capacity for larger dogs 85-120 pounds, but the clients are sold on the wolf urn. Recently we added two affordable alloy style urns that will accommodate up to 85 pounds. But for dogs of this size, the choices are limited.
On a side note, a Greyhound owner mentioned that the Greyhound was the only breed of dog mentioned in the bible.
Well, I had to know more. Yes, it's true the Greyhound is specifically mentioned in the bible, (Proverbs 30:29-31, King James Version):
There be three things which go well, yea,
Which are comely in going;
A lion, which is strongest among beasts and Turneth not away from any;
A greyhound;
A he-goat also.
It's all in the translation: The Hebrew phrase translated as "greyhound" literally means "girt in the loins." This probably was considered by translators the most appropriate English term to describe the ancestor of the greyhound. It also didn't hurt that the Greyhound was popular with the sixteenth century court of King James. (Source: courtesy of http://www.agreyhoundswish.org/hist_bible.htm)
Biblical references to dogs are not favorable, certainly not admired and loved as in our culture.