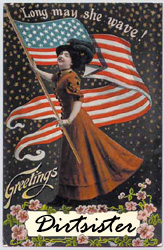 Everyone tells me that I should slow down and take care of myself. Every time I slow down, I think of you, and it kills me.
This was lifted from a site I found that invites letters to the dead.
It's actually interesting and I suspect that the blog creator is collecting material for a book….
When I told my grandmother that I was reading her husband's memoirs, she mentioned that some of what he had written really hurt her.
After reading an article that HST wrote in '69 on test pilots, the contrast of 20+ years between the pilots of the the 40's and the 60's was astonishing.
Thompson writes: "Heavy drinking is out of the question; a drunken test pilot is viewed with genuine alarm by the others, who see any form of social excess- drink, wenching, late hours, any "unusual" behavior – as an indication of some deeper problem, an emotional cancer of some kind. Tonight's juicer is tomorrow's- or Monday's- hangover risk, a pair of slow-focusing eyes or an uncertain hand at the controls of a $100 million aircraft."
Yes, it's true. It was the space age, and things had changed. And certainly, we're not trying to glorify this behavior, but some of our heroes from the past would have never made the flight program. Grandfather was a high strung individual, and in order to pass the physical screens to fly he would get smashed the night before to keep his blood pressure in check. Incredibly, it worked! For awhile. Scary.
The second half of his life, was never chronicled and the last page ends in 1959 with a poem:
Lives of great men all remind us
We can make our lives sublime,
And departing, leave behind us
Footprints in the sands of time.
Footprints, that perhaps another,
Sailing o'er life's solemn main,
A forlorn and shipwrecked brother,
Seeing, shall take heart again.
Let us, then, be up and doing,
With a heart for any fate;
Still achieving, still pursuing,
Learn to labor and to wait.
Today's memorial tattoo: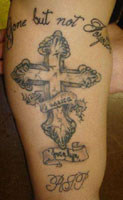 Today's tip for better living: Learn how to use a compass.