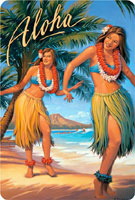 Three Beautiful Things:
No curfews or checkpoints
Redbuds and Lilacs
Lunch with an old friend
Had a little time to review my grandfather's memoirs this weekend, and so grateful for this gift. A couple of family members are packing their bags for Hawaii and we were reminded of the Aulick experience before Hawaii was granted statehood. Let's just say…it was pretty native and not safe to leave your women unprotected.
"In the spring of 1948, we were assigned as primary air escorts for a convoy that took an atomic arsenal to Bikini for testing. We left Kaneohe on the 9th of March and returned home on the sixteenth. We covered a lot of ocean in that time and flew a lot of hours. While in the Marshalls, we spent one night on Johnson Island and slept in barracks that had been previously occupied. Somehow, I wound up with a horrible bunch of body lice (crabs) on me. So, when we arrived back on Oahu, they had to fumigate me with DDT before I could leave the damned airplane.
I finally found civilian quarters for my family so I got authorization for them to come to Hawaii. Mother also came with the family. They arrived by Military Transport, a few weeks later and we moved into our new "home" in Hauula, Oahu T.H.
Hauula is a small town on the northwest side Oahu- right on the ocean. A lovely little place but it was the home of hundreds of Samoans- who lived like animals.
Those suckers partied every night and nobody was safe from their foraging through the neighborhood. When they weren't looking for women, they were looking for something to steal. They NEVER slept.
One night one of the men sneaked into the house and tried to get into bed with Mother. When he came through the front patio doors, he left his shoes at the door and at the same time, let a helluva bunch of mosquitoes in the house. That's what woke Mother up and she screamed when she saw a man standing over her bed, taking his belt off. I ran into the room and that bastard Samoan was just clearing the front fence on his way out, and in his haste to leave, he left his shoes behind.
We also had a lot of window-peekers. I finally got a dog that would bark if they came into the yard. One night, Etta Mae (his wife) and went to the toilet. As soon as she turned on the light in the bathroom, my dog started to bark. I had a small forty caliber revolver (slept with it under his pillow), the switch for the yard lights was in the bathroom, Etta Mae flipped them on. When the lights went on, I opened the door and there stood that Samoan bastard, looking at my wife through the window. When he saw the gun in my hand, he literally few over that back fence. That fence was solid rock and about five feet tall, but he never touched it!
After the Samoans found out I had a gun and dog, they didn't bother us much.
We also went through our first earthquake in Hauula. It was just a few minutes long but it was scary. When it was over, everything that could make a noise, started barking or howling.
Speaking of howling, we had a lot of mongooses living in our attic. They don't have any snakes in Hawaii but they do have mongooses (which eat the snakes). These critters did a lot of squealing and fighting in the attic but they didn't bother us much.
We had date palms in our yard and four different types of bananas, Guava bushes, papaya trees and just about anything tropical you could ask for. The avocado pear trees were loaded with fruit but we hadn't learned to like them, yet. The damned Samoans kept them cleaned up for us, though.
Finally, after a long wait, I was assigned quarters on the base at Kaneohe- in a housing development called "Bird Farm". What a relief it was to get away from those Samoans and really start to enjoy our Hawaiian adventure. We formed a bridge club among some of the other crew and started having parties.
Live it up! And thank you for sharing. Maybe we've been rewinding lately because the present is hard to handle and these stories have a message of hope. Now, back to the future….
Today's tip: Do a cartwheel if you can.