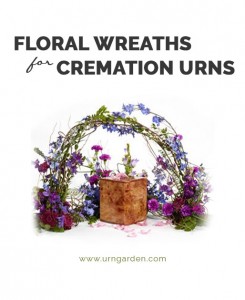 Several years ago I was at a local florist to check out their selection of wreaths designed for a cremation urn.  There weren't a lot of options, in fact, they only had two listed in a notebook, and at the time, no choices were listed on their website.  It was sad, and today this particular florist offers more variety. Here's some ideas for a floral display designed for the urn at the memorial service. You can get ideas for flowers paired with various styles of marble or stone, metal, and wood cremation urns.
My personal favorite is a more wild natural look, with a combination of roses, succulents, and wildflowers. Simple and beautiful and softens the metal vase.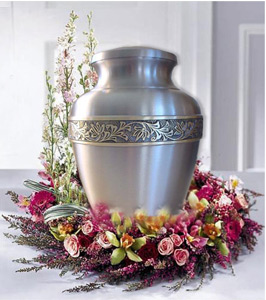 A marble or stone urn is paired with a more traditional style wreath studded with roses, daisies, and greenery.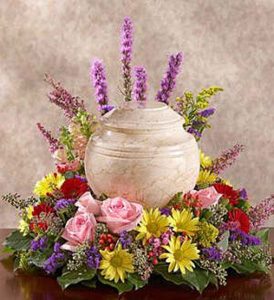 Lilies are so fragrant, and symbolize friendship.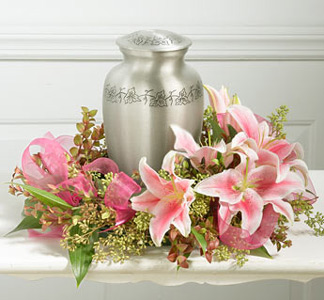 This arch over a wood or box shape adds interest. Almost an arbor effect.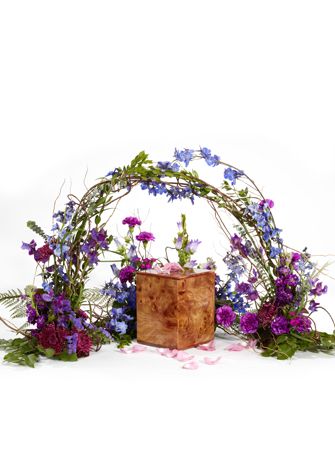 Here's another box shaped urn, this one is actually made from biodegradable paper. The free standing heart sculpture on the top adds height and interest, and then surrounded by roses and greenery. So pretty.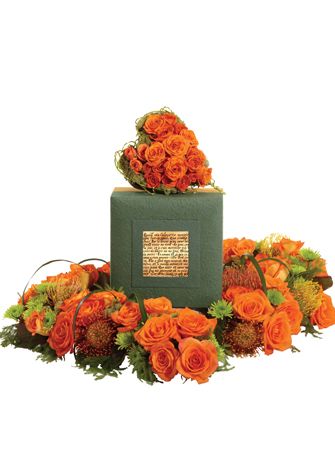 Speaking of environmentally friendly, if you plan to have an ash scattering ceremony at the lake or ocean, floral wreaths are still a beautiful symbol for a natural burial and gives family and friends a chance to participate in the service by tossing a few petals or setting a wreath into the water along with the ashes.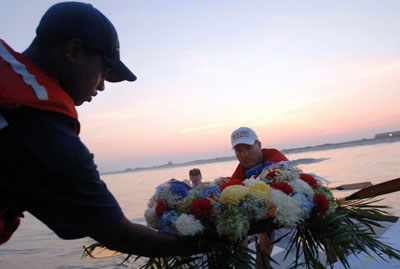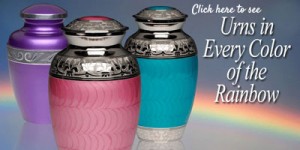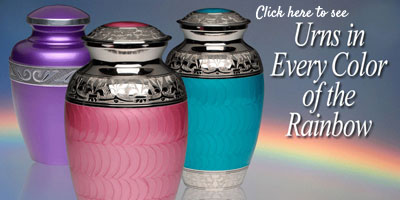 This particular arrangement gives you an idea of blending the elements of candles, flowers or urn in the loved one's favorite color to personalize the memorial service.  The explosion of pink has all the funeral favorites, roses, Gerber daisies, glads, lilies, and carnations.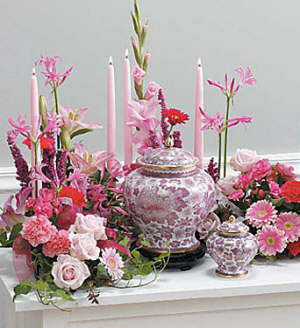 Flowers representing the deceased's birth month might be a good choice. Family's often overlook the healing power of flowers at funeral or memorial services, and will request that no flowers be delivered. It's too bad because the tradition of flowers for special occasions is still relevant today and is a proven mood lifter.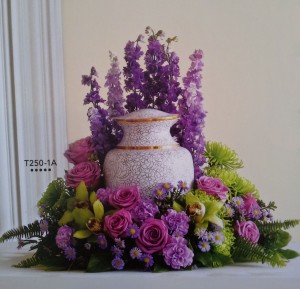 If you are planning a funeral or memorial long distance or don't have a relationship with a local florist, Teleflora has a couple of attractive options, and not just wreaths. This example of two free standing vases flanking the urn make a statement.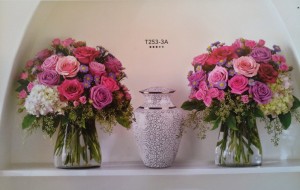 For customers in the Springfield, Missouri area our friends at these fine florists can help you create a memorable memorial arrangement: