Each of the Celtic urns in our collection is a glorious expression of the mystery and paradoxes of life. Not just life itself, but also those aspects of living which make day-to-day happenings meaningful, such as love, faith and, of course, death. Here's your chance to envision ways you can use the beauty and significance of the Celtic knot, shamrock or the sacred white horse to acknowledge a loved one's Irish heritage or simply to express a personal world view via these time-honored symbols.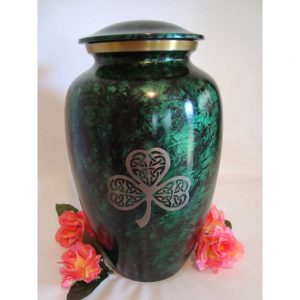 Celtic Urns as Representations of Life's Mystery
Celtic knots are perhaps the most mysterious of art forms, simply because there is next-to-no written history relating to their purpose. They've been around since the 3rd or 4th century, and because there is no beginning or end to a Celtic knot, they are visual expressions of the interconnectedness of our lives, the complexity of existence and the mystery of death. (Despite religious convictions, no one can say for sure what it means to die. I think François Rabelais, the French Renaissance writer captured our lack of true understanding of the reality of death when he wrote "I go to seek a Great Perhaps.")
Consider the Celtic Knot Raku Cremation Urn. It's hand-thrown and hand-carved by a husband and wife using the Japanese Raku technique, which creates unique one-of-a-kind Celtic urn. Made in American by loving, compassionate artisans, each urn is signed.
Believe me when I say a picture cannot even come close to doing justice to the beauty of this hand-made Celtic urn. Rich, warm copper flash combines with a creamy crackle glaze on the emblems and the lid to create a stunning contrast.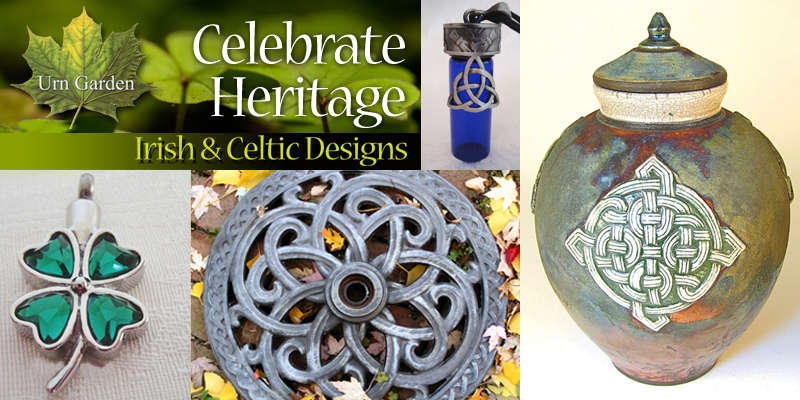 Celtic Urns as Expressions of Irish Heritage
A time-worn Irish saying goes "There are only two kinds of people in the world. The Irish and those who wish they were." If you, your family or your deceased loved one rejoiced in being of Irish decent, our Lucky Shamrock Cremation Urn could be the perfect Celtic urn for you.
In the same way a rose is used to symbolize England, the shamrock has symbolized Ireland since the 18th century. But it's not just a symbol of Irish cultural roots; it's also used as a symbol of Saint Patrick, Ireland's patron saint, believed to have used it as a metaphor for the Christian Holy Trinity. The dual symbolism of the shamrock makes this Celtic urn a fitting statement of religious conviction or the pride of an Irish heritage.
Celtic Urns as Expressions of Faith
Certainly, the Celtic Cross is one of the most widely-recognized religious symbols. Called a "ringed" cross by some, the Celtic cross was first seen in the British Isles in the Early Middle Ages. Although its significance is debated by many, Irish Catholics believe the circle around the head of the cross signifies God's everlasting–and to some degree mysterious–love. Urn Garden's Celtic Cross Cremation Urn features vibrant shades of green a beautiful representation of Ireland's verdant green countryside and is engraved with the ancient Celtic Cross knot design.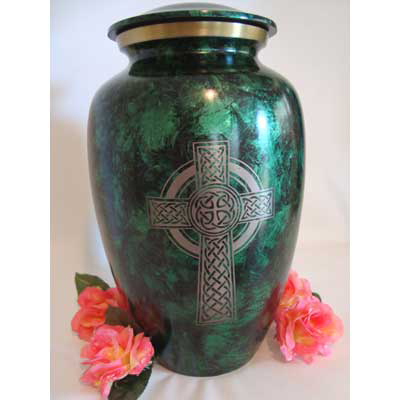 Want to see the complete collection?