In an earlier post this month, "Rose Cremation Urns for June", I promised you a second post showcasing our rose cremation urns–and here it is! These three rose urns are charmingly elegant. The first, our Carolina Rose Cremation Urn is made of porcelain, the second, the Tea Rose Cremation Urn (one of my absolute favorite rose cremation urns!) is of ceramic; and the third, our Dusty Pink Rose Cremation Urn is a gorgeous cloisonné urn.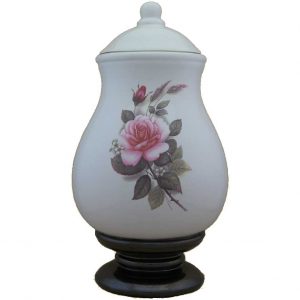 The Carolina Rose Cremation Urn, crafted in the United States from fine porcelain and measures almost 11" tall. It features heirloom Rosa Carolina flowers in soft shades of pink, highlighted on an ivory white background with gold trim and a bronze base. It's size makes it suitable for the ashes of an adult.
As I said, this next rose urn, our Tea Rose Cremation Urn is one of my personal favorites. This ceramic urn is beautifully hand-painted with a bower of gorgeous tea roses.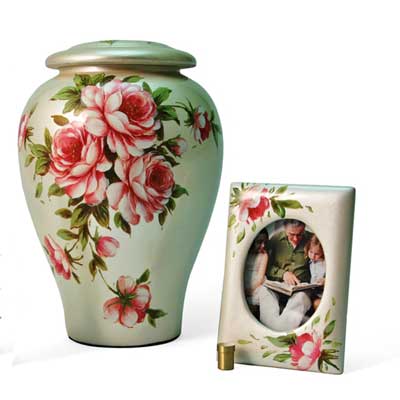 Beautiful tea rose cremation urn crafted in ceramic with hand painted Double Delight roses, each petal represents the ultimate symbol of love. If keeping in the home, this cremation urn would blend into a French Country or country cottage decor.
Measures: 10′ H x 7″ W
Capacity: Adult, 200 cubic inches
The lid can be sealed with any clear household adhesive or wax.
The photo frame is optional and doubles as a keepsake to store a small amount of ashes.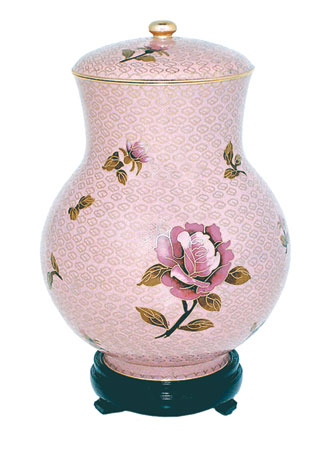 Pretty Dusty Pink Rose cloisonné cremation urn, the world wide symbol of love and devotion. People often mistake Cloisonne (pronounced Cloy-son-a) as ceramic or porcelain, and are surprised to discover that it's metal. Cloisonne is an ancient art that blends layers of copper, brass, and baked enamel for a beautiful strong finish in soft pink. Families often choose this style to showcase in the home, as the urn is attractive enough to stand on it's own as a piece of fine art. We are able to engrave on the cloisonne style (one of the few who do!) if you choose to personalize. In addition to the adult size, this is part of a collection of several different sizes, including an oversized version that will hold two complete sets of human ashes.
All of the styles we've shown you today are hand crafted and naturally, can have variations. The beauty and symbolism of the rose cannot be denied. Need help finding the perfect memorial? We are here: