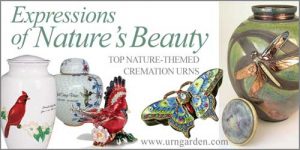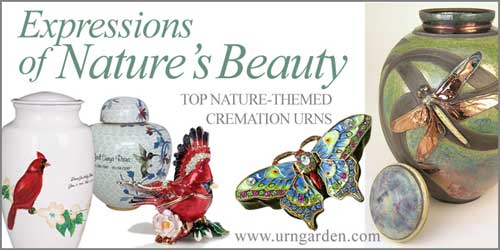 We've been inspired by the signs of spring. The twittering of our feathered friends led to the creation of our Song Bird Urn Collection.  Styles range from sturdy metal urns to blown glass beauties like the Secret Garden Urn for Ashes.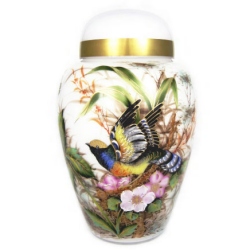 European hand-blown glass
Hand-painted artistry
Another hand painted beauty is the Cardinal Cremation Urn that features a vibrant scarlet bird perched on a branch of blooming dogwood flowers.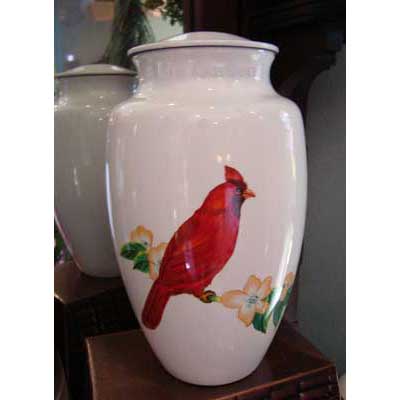 So pretty and suitable for male or female, we can also laser engrave names and dates if the family desires. This one has the look of ceramic, but is actually sturdy metal in the traditional vase shape.
We're celebrating the return of the hummingbirds with a new style of  Hummingbird urn.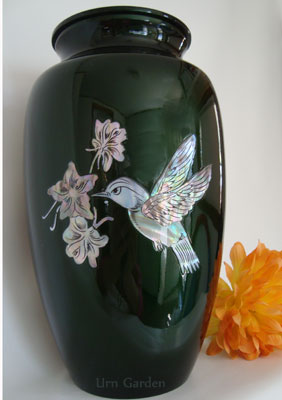 This one is metal also with layers of rich emerald green enamel and sparkling mother of pearl inlay to create the hummingbird and flowers. The contrast of the iridescent mother of pearl against the dark green background is so beautiful.
And there's always the classic style that features the birds in flight on a silvery blue metallic background. This is an ancient design, birds symbolize freedom and strength and are the messengers to the gods. Timeless classics to create a beautiful memorial.