This month we're featuring heart-shaped cremation urns, jewelry urns, and memorial stones. One of our favorites is the earth friendly Unity biodegradable urn.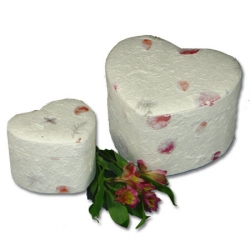 These beautiful urns are handmade and feature inlaid fresh flower petals. It is available in three sizes, pet or keepsake size urn, standard adult urn, or a double capacity companion urn.Each urn includes a water-soluble plastic bag for the cremated remains.
The Unity urn is designed for ground burial. Once buried it will degrade naturally over time. Available in three designs with matching keepsakes.